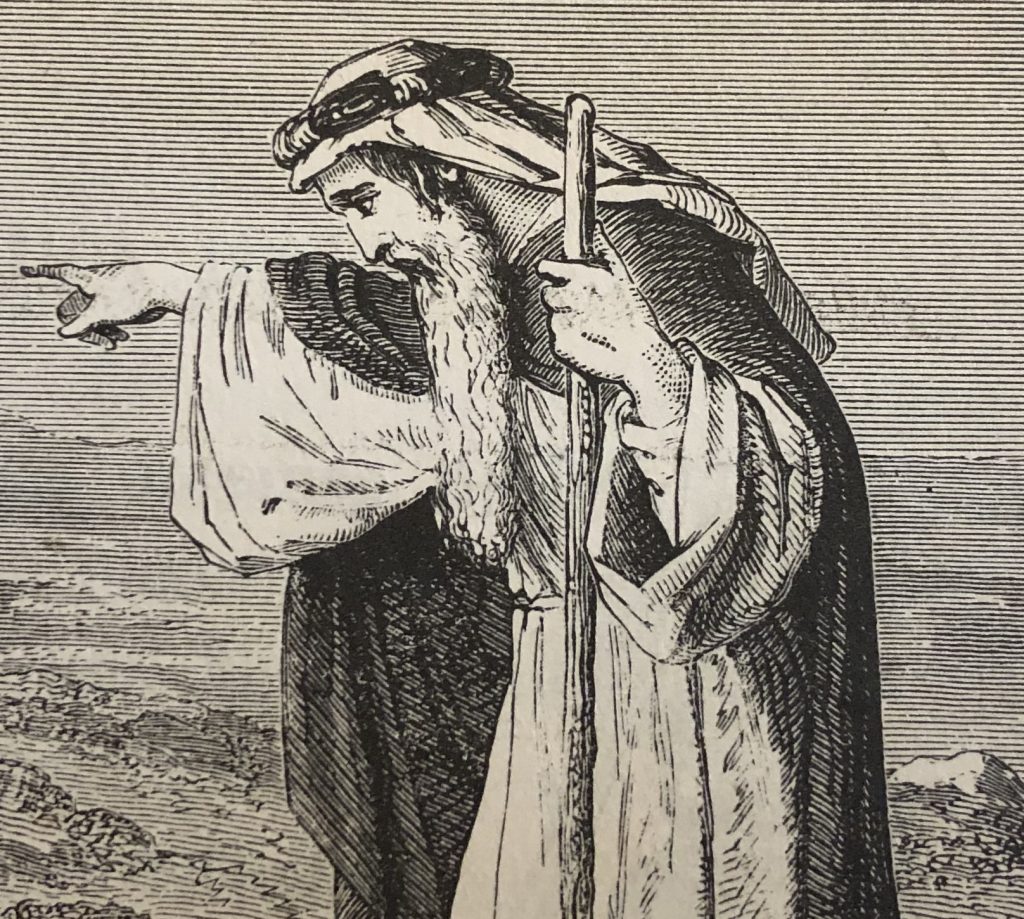 Hear now my words: If there be a prophet among you, I the LORD will make myself known unto him in a vision, and will speak unto him in a dream.      Numbers 12:6 KJV
What it Takes to Be a Prophet
Have you ever thought of yourself as a prophet of the Lord?
What does it really mean to be a prophet? Do you have to predict the future and call fire out of heaven? Not necessarily.
Basically, to be a prophet, you have to speak and proclaim what you hear from God, instead of just promoting your own ideas.
If you want to be a prophet of God, then you have to learn to hear His voice, follow His instructions, and share His message in the way He tells you. No personal opinions allowed. That disqualifies a lot of folks.
You can't decide to be a prophet on your own. God plants the seed in your heart, prepares and calls you for His service.
Elisha and the Syrian army
There's a wonderful story of Elisha the prophet that illustrates the fact that God reveals things to His prophets, and they act accordingly. If you're not familiar with it, I highly recommend you check it out (see II Kings 6:8-23). It highlights how a true prophet of God thinks and acts.
I've read this story dozens of times. But recently, I saw something about being a prophet that I'd never noticed before. I'll get to that in just a minute, but first, here's a brief summary of the story.
The king of Syria is at war with Israel and sends troops to fight. Elisha warns the king of Israel not to go to a specific location and a battle is avoided. This happens at least three times if not more.
Imagine if you were the king of Syria and you had reliable spies who told you where the Israelite army was, but every time you got there, they were gone. Rather frustrating, don't you think. The Syrian king finally gets suspicious and wonders if any of his people are informants helping the enemy.
Here's where it gets interesting.
One of the king's servants pipes up and explains that Elisha, a prophet in Israel, tells the king of Israel what he, the king of Syria, says in his bedroom. Again, imagine you are the king of Syria and find out someone knows what you say in private without any double agent spies involved. That's pretty unnerving if you ask me. How do you deal with something like that?
I've always wondered how the servant knew about Elisha's ability to know what was being said in the Syrian king's bedroom. If you want to know something, just ask the people who "aren't in charge."
The Syrian king does what warrior kings do, he goes after the perceived enemy, Elisha. In fact, he comes by night and surrounds the town where Elisha is staying. When the prophet's servant wakes up the next morning, all he sees is the place surrounded by horses, chariots, and a great army. Alarmed, he runs to Elisha and blubbers, "Yikes! What are we going to do?" (My paraphrase.)
But Elisha is not afraid. As a prophet of God, he perceives beyond what the five material senses can take in. With his spiritual vision (that's why he's a prophet), he sees so much more.
First, he calms the fear of his servant with those famous words we should write on our hearts, ""Do not be afraid, for those who are with us are more than those who are with them." (II Kings 6:16  ESV)
Next, he prays for God to open the eyes of the young man so he can see what is spiritually going on. God answers this prayer. The servant suddenly sees "the mountain was full of horses and chariots of fire all around Elisha." (II Kings 6:17)
Once again the story takes a turn only one of God's prophets can maneuver. Elisha prays for God to strike the Syrian army with blindness and this prayer is also answered. It's just the opposite of his prayer for his servant's eyes to be opened. It turns out this is not a punishment or a curse, but a blessing in disguise. Elisha leads them away to the king of Israel in Samaria then prays for their eyes to be opened. Whereas the king of Israel wonders whether he should kill them all, Elisha commands them to be fed and sent home.
Pretty amazing stuff when you think about it. Think of all those people getting their eyes "opened." First Elisha's servant, then the whole Syrian army.
Elisha averts several battles between the Syrians and the Israelites by warning the king. And when the Syrians come for him, he prevents any confrontation. The ultimate result is that the Syrians are sent home and don't come back–at least for the time being. Peace prevails for a season.
Prophecy is all about spiritual vision coupled with hearing and obeying God.
Here's the part of the story I had never seen before. Elisha knew where the Syrian troops would be and warned Israel's king. Why didn't he know they were coming for him and escape?
I think he did know they were coming. He wasn't surprised at all when they showed up that morning. But because of his prophetic vision, he saw the "horses and chariots of fire," which represented God's presence, power, and protection.
He didn't avoid the enemy but confronted them, not with violence, but with compassion. He had them fed before he sent them home in peace.
Is this story a foreshadowing of Jesus's famous command, "Love your enemies"? Absolutely.
Elisha saw beyond the political, nationalistic, and religious labels of who were the good guys and who were the bad guys. He saw things from a higher perspective. He treated these "enemy soldiers" with some degree of love. This kind of vision was completely spiritual.
What can you take from this story and apply to your own life?
When a challenge comes up, will you be spiritually prepared to face it fearlessly? Will you see the problem, as Elisha's servant did? Or will you see the spiritual solution already at hand, as his master did? Will you bless your "enemy" or will you try to retaliate? Most importantly, will you use your human mind to figure things out or will you use your spiritual ears and eyes to hear and see and, or course, obey what God is revealing to you to do?
Watch out for false prophets!
Not everyone who claimed to be a prophet of the Lord in the Bible was actually authorized and approved of by God. In fact, God had some pretty choice things to say about false prophets who were leading the Children of Israel astray: "Thus saith the Lord GOD; Woe unto the foolish prophets, that follow their own spirit, and have seen nothing!" (Ezekiel 13:3  KJV) If you want to really get into the condemnation God proclaims against these false prophets, read the whole Chapter 13 of Ezekiel.
Calamity was brewing because the Israelites had disobeyed God's commandments, but the false prophets were proclaiming peace for Jerusalem. Those who didn't want to repent of their sins much preferred the message of the false prophets to what God's true prophets were saying.
Jesus also comes down forcefully against false prophets: "Beware of false prophets, which come to you in sheep's clothing, but inwardly they are ravening wolves."  Matthew 7:15
Unfortunately, sometimes we get fooled by the façade of sheep skin. Why? Because we want to believe the lies that the wolves are telling. We don't want to face the truth if it hurts. We don't want to reform our sinful ways. We would rather blame our problems on external circumstances instead of dealing with the demons in our own hearts.
Have you ever wondered why there were false prophets? I think it was because they wanted power. They could wrap themselves in flowery words of "God said this," or "God said that." But they just wanted to influence others with their own agenda and ideas. It was an exercise of the human ego. The irony is that if they had really been listening to God and telling the people what God had revealed to them, they would have actually had more influence and lasting effect than they did.
False prophets today
As in Bible times, so today. There are false prophets who, in the name of all that is holy, are really just trying to satisfy the cravings for power of their own human ego. I'm not really talking about sincere Christians who may not have every fine point of theology perfectly figured out or someone whose theology you disagree with on certain points. Even the Old Testament Samuel had to learn not to trust his own instincts when anointing a new king. He thought Jesse's oldest son, then the next oldest, etc., would make a great king, but God said "No" to each of them. We don't get all judgemental of Samuel because he made an honest mistake. The point is, his heart was in the right place. He finally listened to God and obeyed the command to anoint David.
The point is, good people make mistakes, bu their hearts are loyal to God. That's not who I'm talking about.
By false prophets, I'm talking about the wolves in sheep's clothing who maneuver their way into positions of influence in the church through selfish, egotistical motives. It's all about them, although they pretend to be humble servants of God.
Some of these folks may have started out as sincere workers in God's vineyard, but the lure of power and prestige beguiled them. It's even possible they didn't even notice the shift in their heart.
Regardless, Jesus tells us to watch out for people like this.
And more importantly, watch out for the seeds of false prophecy Satan tries to plant in your own heart, either believing someone else's lies or being fooled into following your own desire to be in charge or in power. We all need to be alert to the serpent's subtle whispers. God knows what He wants you to do, where He wants you to be and how to bring it to pass. You don't have to manipulate events of people to make it happen.
Don't be like king David's son Absalom, who was out favor with his father, but wanted glory for himself. He presented himself as an honorable resource for justice with the people and won their hearts away from David his father. He lamented, "Oh that I were made judge in the land, that every man which hath any suit or cause might come unto me, and I would do him justice!" (II Samuel 15:4  KJV)
In other words, "I want to be the one with the power, the one in charge." Have you ever been tempted to want power in this way? Maybe at work, at school, or at church? I certainly have. What egotism!  That temptation comes to many of us, or maybe all of us in different ways.
But praise God for His mercy and grace. He has been oh so patient with me. My desire now is simply to do what God wants, not what I want–to be where God puts me, and not try to maneuver my way into some grass-is-greener-somehwere-else or I-could-do-a-better-job-than-someone-else situation.
Back to being a prophet
Earnestly cherish your God-given ability to hear His voice and follow His guidance. Put yourself in His service, whatever it may be. Some churches have very strict definitions of what it means to be a prophet. For me, it is anyone who hears God's voice, sees what God reveals, and proclaims it. It doesn't mean everything you say is right or that you never make a mistake. I mentioned Samuel, who, because he was a true prophet, heard God's voice above his own opinions and anointed the right person to be king. Think of the disaster to the kingdom of Israel if Samuel had anointed the wrong king.
It is your divine birthright to hear God's voice and see what He reveals, then to share it, if and when He tells you to, with others.
Jesus sets the example better than anyone else. He was THE prophet promised by Moses (see Deuteronomy 18:15). Jesus tells us "Judge not according to the appearance, but judge righteous judgment." (John 7:24  KJV) This is true prophecy. Jesus followed his own advice. He always listened for what God was telling him instead of believing what was on the surface or outward appearance of things.
Jesus wants us to follow his example. Listen to God. Pray for your spiritual eyes to be opened so you can see what He reveals. Be humble. Be bold. Ask God what He thinks instead of justifying what you think. Always go with what God says even if it doesn't make much sense at the time. He knows what He's doing. And you never know how much good you may do when you put yourself in God's hands and go where He leads.
I'd love to hear your thoughts on this topic. Scroll all the way to the bottom of the page to leave a comment.
Many blessings,
James
P.S. News Flash: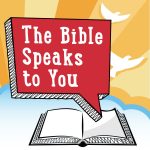 In the next month or so, I'll be starting a podcast called, of course, "The Bible Speaks to You Podcast."
Update:  The podcast is live. Check out the Podcast page. To sign up for email notifications so you won't miss a single podcast episode or blog post, click here.
Thanks so much for your support.
James