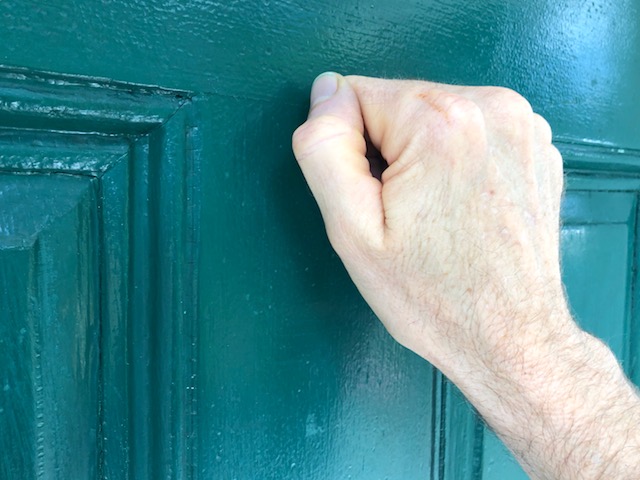 Behold, I stand at the door, and knock; if any man hear my voice, and open the door, I will come in to him, and will sup with him, and he with me."       Revelation 3:20  KJV
An Allegory
The dirty dishes were piled high in the sink. I really didn't feel like washing them right then, but after five days of ignoring them, it was time. Actually, it only took about 25 minutes once I put my heart into it. I had just finished when there was a faint knock at the front door. I wondered why whoever was there hadn't rung the wireless doorbell. If I hadn't just turned off the water, I wouldn't have heard it.
I almost didn't even answer the door. The house was a mess. Unfinished projects scattered the dining room table and the living room. Muddy gardening gloves and boots were in the front hallway along with weeks of clutter. At least I had done the dishes.
As I opened the door, a man in his early thirties had just turned to walk away. He had on a pair of clean but well-worn blue jeans and a cream colored flannel shirt with the sleeves rolled up.
"Can I help you?" I called out.
"Oh, I thought you weren't going to answer the door. I had been knocking for about five minutes," he said.
"Sorry. I was washing the dishes and didn't hear your knock. Why didn't you ring the door bell? Oh well, it doesn't matter. What can I do for you?"
"Oh, it's what I can do for you," he said with a chuckle. "I have come to help you clean your house. My father will be by later to help as well."
Ha! I say to myself. I'm wondering who the heck this guy is and how did he know my house was such a mess. "I don't even know you. Why would you want to help clean my house?" As I closed the door just enough to hide the mess in the hallway, I added, "And how do you know it even needs to be cleaned?"
"A friend of yours recommended I stop by to help, Sally Browne from church."
Well, if Sally knows this guy, he must be legit. "Okay then, you can come in, but I've got to warn you, things are pretty bad in here. I've been so busy I haven't had time to clean up in a while."
"That's why I'm here."
"Hey, what's your name?"
"Joshua."
"Nice to meet you. I'm James. Look, you really don't need to help me clean up. I don't have any money to pay you. But I'll fix you dinner when we're done."
"You've got a deal."
I have never seen anyone work so quickly or so effortlessly. Joshua seemed to know where everything went. He swept and vacuumed while I mopped the kitchen floor. All of a sudden I remembered how bad the toilet was. It hadn't been cleaned it in weeks. I hurried to finish mopping, and raced to the bathroom. There was Joshua on his knees scrubbing at the brown gunk in my toilet.
I have not been that embarrassed in a long time. Why do I dread cleaning that toilet and put it off all the time? He makes it look so easy and almost fun.
And he didn't seem to notice or even mind how bad it was. I started to apologize, but he asked me if I had noticed how the sunlight was hitting the bright fall leaves on the sugar maple tree out the bathroom window.
In about an hour and a half the whole house was clean and tidy. But it wasn't just clean. It felt more like home than it had in a long time.
"Wow, Joshua, the house looks better than it has in ages. Thank you so much. It would have taken me days to do this all by myself. I couldn't have done it without you."
"That's what everybody says."
"I still can't believe it. I don't know how to thank you. Except, I did promise you dinner. You hungry after all that work?"
"You bet. But I'm going to fix you dinner instead. In fact, it's already on the grill out back."
Who is this guy? I'm thinking to myself. When did he have time to fix a meal? He was working non-stop since he got here.
The picnic table was beautifully set with dishes I had never seen before. The silverware was real silver and you could tell it had been hand-crafted. There was bread and fruit in bowls and fish on the grill. "Come, and dine," he said.
Where on earth did he get all this stuff?
As we ate and talked, Joshua asked about my childhood, what I was doing now, and my hopes for the future. No one had been so genuinely interested in me in eons. It seemed like I was always the one asking other people those questions.
So, I turned the tables on him. "What do you do Joshua, besides helping me clean up my house, that is?"
"Well, I trained as a carpenter and was pretty successful at it for many years. I had so many orders I could have made a pretty good living. But a couple of years ago I realized I had more to offer. Lately I've been helping people not just clean up their houses but clean up their lives too."
"What do you mean?"
"You know how you had all that clutter in your house? It was easy to get rid of the trash and put away the stuff you needed to keep. Then we could clean up all that dirt and grime. By the way, when was the last time you dusted? On second thought, don't answer that.
"But it's harder to help clean up someone's life. Most folks have mental and emotional clutter strewn around in their minds. Everywhere you step, everything you say, brings back bad memories or hurt feelings. And then they have some things buried away in their hearts they don't want to deal with or have forgotten about, kind of like those boxes of old magazines I got rid of from your closet."
"You got rid of my comic book collection? I've had those since I was a kid. Some of them were valuable. You should have asked me first, Joshua. I've been saving them for years."
"You can go get them out of the trash if you want to. But I checked them out online. They're so worn out from all the times you read them, they actually aren't worth much at all. And besides, they never really were that great of an influence on you. They were kind of an escape for you into a fantasy world where you thought you had super powers. Pretty much a waste of time in my book."
The napkin in my lap grew moist from the tears running down my cheeks. Joshua was right. What a waste of time. It seemed like great stretches of my life had been a waste of time, a waste of money, a waste of effort. So many attempts to do the next thing. So many shiny objects. So many failures.
"Joshua, I hope this is not too much to ask, and you've already done so much, but would you help me get my life cleaned up? You're right, there are lots of things I'm holding onto from the past, that I need to get rid of. And I'm not talking about comic books. I've had a pretty bad attitude about myself sometimes. Usually thought I was never good enough or that there was always something wrong with me. Other times I thought I was the answer to all the world's problems, imagining I was some comic book hero. I'm so tired of it. I just want to be me."
"I'm happy to help. That's what I'm best at and why I came in the first place. But I'm a pretty demanding taskmaster. I can help you, but you have to do everything I tell you. In fact, it works best for me to move in with you and help you in every detail of your life.  My Father will join me. He has some great ideas about living to share with you. I told you he'd be by later and he's on his way now."
Am I crazy?!? What am I thinking? I just agreed to let this total stranger move in with me along with his dad. I always thought it would be great to have a life coach, but this is pretty extreme. What will my wife think?
"Joshua, who are you, really? Have we met before? It seems like I've known you forever. Why are you doing this? Why do you care so much about me?"
"Well, they wrote a book about me a while back that will probably answer those questions. Maybe you've read it. It's that blue leather book with the finger tabs next to the arm chair in your living room." With that he vanished.
I never saw him again to human eyes, but I hear his voice and I feel his presence. He introduced me to his Father and explained that He's my Father too. I feel their guidance, mercy, and gentle rebukes when I make a mess of things. Most of all, I feel their love.
∞∞∞∞∞∞
Listen for the knock at your door. Will you let Christ into your messy house and heart to help clean things up? It may be embarrassing but that is why he comes, to help. Because he loves you.
If a man love me, he will keep my words: and my Father will love him, and we will come unto him, and make our abode with him."     John 14:23 KJV
Blessings to you as always,
James
P.S. Please let me know if you can relate to this.