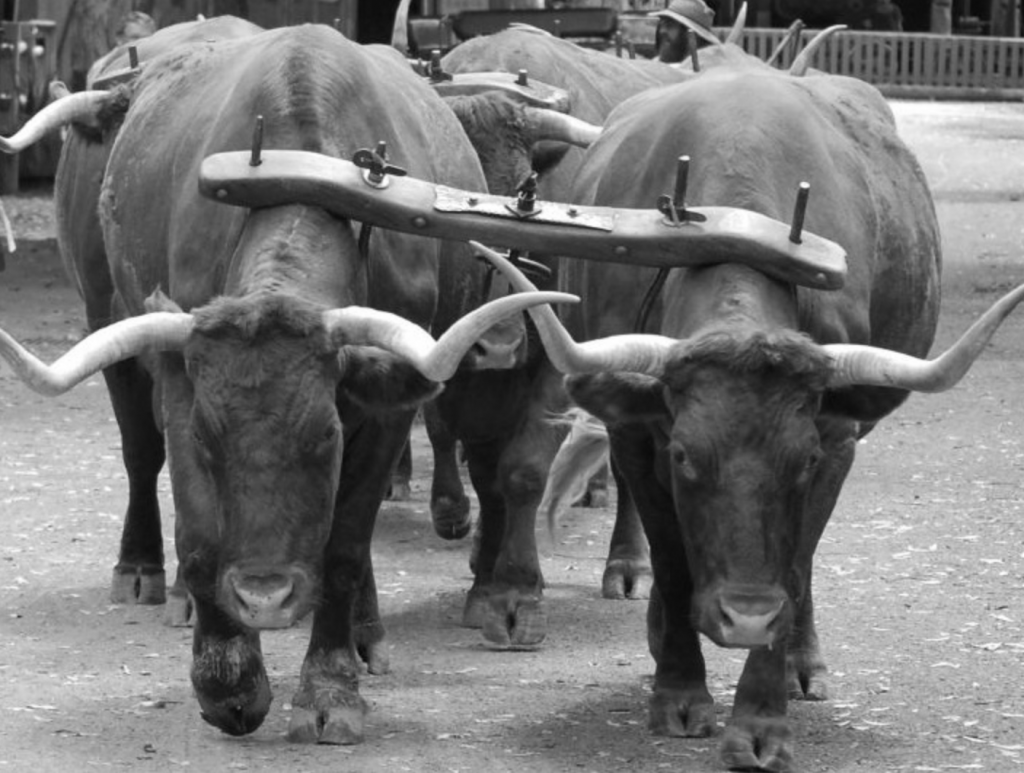 Recently I heard someone say, "When things get really bad, we just need to lean on Jesus."
It sounds pretty comforting doesn't it? Just thinking about it starts to melt away your fears and worries. But what does it really mean to "lean on Jesus"? Is that really what he wanted us to do?
I don't think so.
When we are weak and weary, it sounds very tempting to just lean on Jesus and let him take care of everything, but Jesus has a better plan than that. In fact, it's just the opposite:
Come unto me, all ye that labour and are heavy laden, and I will give you rest. Take my yoke upon you, and learn of me; for I am meek and lowly in heart: and ye shall find rest unto your souls. For my yoke is easy, and my burden is light." (Matthew 11:28-30)
Jesus didn't say to lean on him when you're loaded down with life's problems. He didn't say he would carry us in his arms or give us a piggy back ride. He said to take on his yoke. A yoke is the wooden harness that puts two oxen together to pull a wagon. Think of what this looks like. You are not leaning on Jesus. He is not doing all the work while you rest. You are in the yoke with Jesus and you are both working together to "pull the cart," to bear the burdens of life.
Some folks complain about too many people on government welfare programs, but then want a spiritual welfare program where Jesus does everything and just gives it to them.
Jesus does not do your work for you. Instead, he strengthens you to do it side by side with him. He encourages you. He inspires you. He rebukes you. He sets the pace but is respectful of your pace.
Jesus never said to lean on him
He did say to come to him and put on his yoke. That's different. Very different.
What does that even mean, to put on the yoke of Jesus? In the context of the verses from Matthew quoted above, it seems to me the yoke Jesus refers to is his humility. He never claimed he could do anything without his heavenly Father. He said,
I can of mine own self do nothing: as I hear, I judge: and my judgment is just; because I seek not mine own will, but the will of the Father which hath sent me." (John 5:30)
What if we actually followed his example in this regard? How often we do just the opposite and think we are running the universe or at least our little part of it? Oh sure, we give lip service to God and ask His blessings on what we do. We even ask for His guidance on many occasions, but have we submitted so completely to God as Jesus did? Well, not yet perhaps. But hopefully we are working on it.
The disciples often leaned on Jesus and he usually rebuked them for it.
When Jesus was asleep on a pillow at the back of the ship during a terrible storm at sea, his disciples were so afraid they couldn't think of any solution but to wake Jesus up and wonder if he even cared that they were all going to drown in the storm. You can hardly blame them. Fear does interesting things to people.
But Jesus does not excuse their fear. In fact he rebukes them, "Why are ye so fearful: how is it that ye have no faith?" (Mark 4:40) Ouch! Imagine you're one of his disciples and Jesus just accused you of having no faith? That's pretty serious.
In effect, Jesus is telling them there was no need to be afraid. There was no reason to lose faith. They had seen Jesus do amazing things. He had healed a multitude of sick people. Did it ever occur to them that the same divine power that healed the sick could still the storm? Apparently not.
Maybe Jesus went to sleep on purpose to see if his disciples could rise to the occasion and, through their faith, pray to still the storm. But they weren't quite ready for that.
Christ empowers us
The great Teacher still had some teaching to do. It wasn't too long before he called his twelve disciples together and gave them the power and authority to heal. Then he sends them out to preach the good news of the kingdom of heaven and to heal all manner of sickness and disease, raise the dead, cleanse the lepers, and cast out devils. (See Matthew 10:1-8; Mark 6:7-13)
He didn't go with them. He didn't hold their hands. He didn't say, "Lean on me and I will help you." He empowered them to use their own faith.
So the disciples are starting to get the hang of it. They go out preaching and healing with good results, to the extent that people come to them for healing when they couldn't find Jesus. But they still have some spiritual lessons to learn.
When Jesus is on the Mount of Transfiguration with Peter, James, and John, a desperate dad comes to the other disciples and asks them to heal his son, who is having epileptic seizures. The boy is not healed. When Jesus arrives on the scene, the first thing he does, before he even answers the father's plea for help, is severely rebuke his disciples: "O faithless and perverse generation, how long shall I be with you? how long shall I suffer you? bring him hither to me." (Matthew 17:17; see also Mark 9:19; Luke 9:41)
It's as if Jesus said, "Quit leaning on me to do your work. I have given you power and authority to heal all manner of sickness and disease. Why haven't you used it? I am not going to be personally with you forever to do what you should be doing. I am with you in the yoke, pulling with you, but you have to do your part." So it is today.
Quit leaning on Jesus
If you're going to lean, lean on your heavenly Father. That's what Jesus did. If if worked for him; it will work for you.
In preparation for this article I did a Google search for "leaning on Jesus." I was amazed at how many hits there were. Lots of songs with those words. Dozens and dozens of articles encouraging us to lean on Jesus. I listened to some of the songs and looked at some of the articles. They were all so heartfelt, so earnest, so sincere. All the authors and musicians had a deep love for Jesus, a childlike love and trust.
But it's time to grow up in our love for Christ. Leaning on Jesus is like using crutches. But when you can walk without them, it's time to set them aside. It's like putting training wheels on your bike when you first learn to ride. At some point you don't need them anymore, but they give you a sense of security. Eventually you will realize you don't need those training wheels anymore. You can ride freely without them.
Writing and singing and preaching to encourage people to lean on Jesus is like advising them to never take off the training wheels from their bikes. It's time for us all to mature in Christ, to put off our spiritual training wheels, to quit leaning on Jesus and put on his yoke instead.
I remember when my dad took off the training wheels from my bike. It was scary. I carefully rode up and down the sidewalk. The bike was all wobbles as I tried to learn how to steer. In fact, I ran into a neighbor's tree on the way back to my driveway and fell off the bike. I made my dad put the training wheels back on. But somehow, very soon thereafter, he took them off and I could ride without them. Who knew? I was so proud of myself.
When we quit leaning on Jesus and trust the faith and the power he has given us, it might be scary at first. We might wobble a little. We might even hit some obstacles. But we are learning and growing in the process. Then, instead of Jesus rebuking us for lack of faith, he will say, "Well done, good and faithful servant; thou hast been faithful over a few things, I will make thee ruler over many things: enter thou into the joy of the lord." (Matthew 25:23)
As always, I'd love to hear your thoughts in the comment section below.
Blessings,
James
P.S. If you haven't already read it, you might enjoy a recent post which is related to today's topic: Letting Go of Jesus and Following Christ.