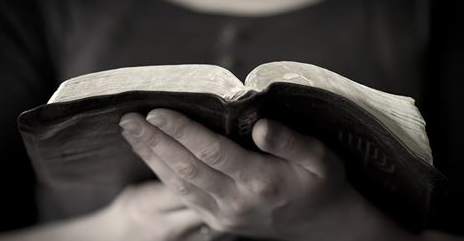 Have you ever been praying and felt like you heard God speak to you during your prayer? It's pretty cool when it happens.
Once in church, during a time set aside for silent prayer, I had on my prayer warrior hat and was silently but boldly declaring God's absolute supremacy and His love for all creation. I expressed gratitude for many things. I was climbing the heights of inspiration. Suddenly, God broke in on my prayer and said, "Shut up and let Me do the talking."
My mental voice was silenced and I listened as God spoke to me. He said the exact things I had been saying in my prayer but He said them in the first person. I don't remember the exact words anymore, but He said something like, "I am absolutely supreme. I love all My creation. I have given you all the blessings you have received." There was more, but that's the spirit of it.
Now, instead of that lofty feeling from my words, I was almost numb with awe from God's words. It was kind of like God talking to Moses out of the burning bush (except for the minor detail that there was no bush).
I referred to this experience in a previous post, "A New Way to Pray the Lord's Prayer." In this article I took the Lord's Prayer and rewrote it as if God was saying it to me.
Since that time I have sometimes taken a verse or passage from the Bible and done the same thing and "translated" it as if God is speaking.
Hearing God speak
A couple of days ago I was feeling a little out of sorts. I wasn't feeling much inspiration. My prayers just seemed like words. There was no wind in my spiritual sails.
I was trying just to get some hint of inspiration to hold onto when the idea came to do one of these "translation" exercises. I was reading Ephesians at the time. Here are the first few verses of Chapter 1:
Paul, 

an apostle of Jesus Christ by the will of God, to the saints which are at Ephesus, and to the faithful in Christ Jesus: 
Grace 

be

 to you, and peace, from God our Father, and 

from

 the Lord Jesus Christ. 
Blessed 

be

 the God and Father of our Lord Jesus Christ, who hath blessed us with all spiritual blessings in heavenly 

places

 in Christ:

According as he hath chosen us in him before the foundation of the world, that we should be holy and without blame before him in love: 

Having predestinated us unto the adoption of children by Jesus Christ to himself, according to the good pleasure of his will, 

To the praise of the glory of his grace, wherein he hath made us accepted in the beloved.

               Ephesians 1:1-6
Obviously, Paul is writing this to the Christian Church at Ephesus. But what if God was talking to us directly? How would He say it? Here's what I came up with.
Paul is My apostle. I chose and appointed him to preach the Gospel of My Son, Jesus Christ. I am telling him everything he needs to tell the Ephesians, to those who are faithful to My Son.
I am your heavenly Father and I bless you with all My grace and peace. Jesus sends his love as well.
Remember that I am also the Father of your Lord Jesus Christ. All the blessings I send to you, you return to Me from your hearts, and it delights Me. I have blessed you in Christ with all spiritual blessings in heavenly places.
I have chosen you in Christ before the foundation of the world, that you should be holy and without blame in My presence, which is love itself.
I have predestined you to be adopted as My children through Jesus Christ because it pleases Me immensely.
I have done all this because My grace is boundless and its glory becomes even more radiant because it shines in your redeemed hearts and faces. I have accepted you as My own and as belonging to Christ.
Disclaimer: I am not trying to put words in God's mouth. I am simply trying to imagine how God might say the same ideas if He was talking.
I did this with other passages from the Bible. It gave a whole new insight into the deeper meaning of Bible stories and ideas. Here's another example:
And Jesus went forth, ans saw a great multitude, and was moved with compassion toward them, and he healed their sick.   Matthew 14:14
And I sent My Son Jesus out to help My children. When he saw them, I told him how much I loved them. He felt My love for them and it swelled up in his heart. I told him to use My love to heal them of all their sicknesses. He was obedient.
I have to tell you, after about 30 minutes of "translating" various Bible verses as if God were speaking, I felt more inspired than I had in a long time. The rest of that morning, as I went about my daily tasks, my prayers were more listening to God and asking Him questions to see what He was thinking. All morning, I felt I heard God speak to me.
This approach sort of primed the pump so I could hear God talking to me.
How do I hear God?
It is not at all unreasonable to pray: "I want to hear God's voice; God, speak to me." God is speaking all the time. We need to learn to listen…and obey.
I encourage you to try the "translation" exercise. Pick a Bible passage and imagine how God would say it if He were speaking directly to you. A good place to start might be Psalm 23. If I could give you some homework, this would be the assignment. Rewrite the 23rd Psalm as if God were saying it to you.
Have you heard God's voice? I'd love to hear about it. Please leave a comment below.
Blessings,
James