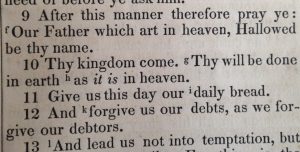 Our Father which art in heaven,
Hallowed be Thy name.
Thy kingdom come.
Thy will be done in earth, as it is in heaven.
Give us this day our daily bread.
And forgive us our debts, as we forgive our debtors.
And lead us not into temptation, but deliver us from evil:
For Thine is the kingdom, and the power, and the glory, for ever.
Amen.
How many times have we uttered this prayer? Too many to count, I'm sure.
Have you ever felt like it was just a bunch of words? And you had said them so many times they didn't have much meaning anymore? Or you just finished the last line of the prayer and realized you don't even remember having said the rest of it? I don't like to admit it, but that has certainly happened to me on more than one occasion.
But the other day I had this totally new idea about how to approach the Lord's Prayer. And I'll share it in just a minute.
When you stop and really think about the words in this prayer, there's a lot of power in them and some pretty heavy-duty spirituality underpinning those words. They have the authority of Jesus embedded in them. And it encourages me to remember that he loved us so much, he wanted us to know the most effective way to pray.
Just before Jesus shared this ideal prayer, he explained that it was to be the manner in which we should pray. I don't think he really wanted us to feed the words into the little prayer wheel in our heads and see how fast we could repeat it together in church. And it's not a magic formula that if you say just right you will get what you want.
Start with the solution
So what is the manner of this prayer?
Well, first of all, it does not start with the problem but with the solution. It's too bad we don't always remember this when we pray. How many times do you start your prayers by telling God what the problem is? As if He didn't already know everything. Why do we think we have to explain things to God? Sometimes we talk to Him like He's a deaf, old man that we have to shout to and repeat everything we say in case He didn't hear us the first time.
But Jesus wants us to begin our prayers with God, His holiness, and the fact that His kingdom and will are supreme. After that groundwork is completed, then we are in the right frame of mind and spirit to ask God for what we need. But don't forget, He already knows what we need. We don't tell him what it is. We ask for it. Asking implies that we expect an answer. Asking also acknowledges that God, and not anyone or anything else, is the provider of our daily bread along with all our needs.
Same with forgiveness. We don't make excuses and justify why we did something. We just ask forgiveness, plain and simple. If we are truly asking to be forgiven, then the unspoken but necessary assumption is that we realize we have done something wrong. But Jesus puts the responsibility on us to forgive those who have wronged us before we can receive, be ready for, and understand God's forgiveness of our sins. We have to take ownership of this forgiveness thing. We have to put our words into action. We have to love others as God loves us.
Next Jesus helps us see that it is only God who can protect us from temptation and evil. We can't do it without His help. Again, in asking God for protection and deliverance, we are acknowledging that He alone is the One who can save and protect us.
The last line of the Lord's Prayer is a summary of all we need to remember. It's the last taste we have in our mouths when we leave the table. It is a full affirmation God's eternal, absolute supremacy, power, and glory. Ideally, as we say and pray these powerful words, we are bearing witness to God's true nature. We are acknowledging that because God is in control, we are confident He will care for us. And in effect, we are denying any person, place, or thing has power over us since all power belongs to God.
A new way to pray
One Sunday morning, not too terribly long ago, I was in the middle of the time for silent prayer at church. We usually have a nice long silent prayer, which is like an oasis of quietness in this busy world of ours. Each time is different, but there's always a lot of gratitude and affirmation and praise along with the prayer of good old petition. (There are so many ways to pray!)
On this particular Sunday I was praying up a masterpiece of praising God and giving Him the glory, all quietly in my heart. I was asking His blessing on everyone there that day. I was thanking Him and affirming His power and glory. I don't remember it all, but it was very heartfelt, sincere, and earnest. All of a sudden, God interrupted me and said, "Shut up and let Me do the talking."
I was completely startled. But I quit "talking" and listened to God instead.
The interesting thing is, God basically was saying the same ideas I had been, but He was saying them instead of me. It went something like this (I don't remember the exact words): I Am all powerful and loving. I bless everyone here today. My majesty and gory fill heaven and earth. I can do all things. I love everyone here with all My heart and will guide you and protect you.
You get the idea.
And the amazing things was, that I felt this inner glow all the rest of that day. I'll never forget it.
So here's my idea about how to pray the Lord's Prayer in a new way. Take each line of the prayer and rewrite it as if God is saying it to you. Then instead of saying it, try to imagine God saying it to you.
Here's one possibility. You can come up with your own version.
Our Father which art in heaven,
     I, your Father and the Father of all, am in heaven,
Hallowed be Thy name.
     My name, my nature, is holy.
Thy kingdom come.
     My kingdom is here right now. I Am in charge.
Thy will be done in earth, as it is in heaven.
     My will is supreme on earth just as it is in heaven.
Give us this day our daily bread.
     I give you and everyone everything you need one day at a time, just when you need it.
And forgive us our debts, as we forgive our debtors.
     When you forgive others, you will be able to truly accept My forgiveness.
And lead us not into temptation, but deliver us from evil:
     I always lead you away from evil and toward My righteousness:
For Thine is the kingdom, and the power, and the glory, for ever.
     All authority, power, and glory originate in Me. I Am the one, true God.
Amen.
     And that's the truth.
I don't pray this way all the time, but every once in a while it helps me really think about what the words mean and who God is and what He is doing in my life and the world.
A listening prayer
A fellow in one of the Bible studies I conduct at the nearby Federal Correctional Institution said to me he always says his prayers, meaning his memorized words. I asked him if he felt closer to God when he prayed this way. No, he said, but when he just talked to God and had a conversation, he got more out of it. No kidding!
Often when we pray, we end up doing all or most of the talking. I encourage you to add a little more listening to the mix. Don't just repeat a bunch of words, but talk to God. Ask Him questions. Listen for His answers. Have a conversation.
The more we listen for His voice, the better we get at hearing it. And the easier it will be to follow His guidance.