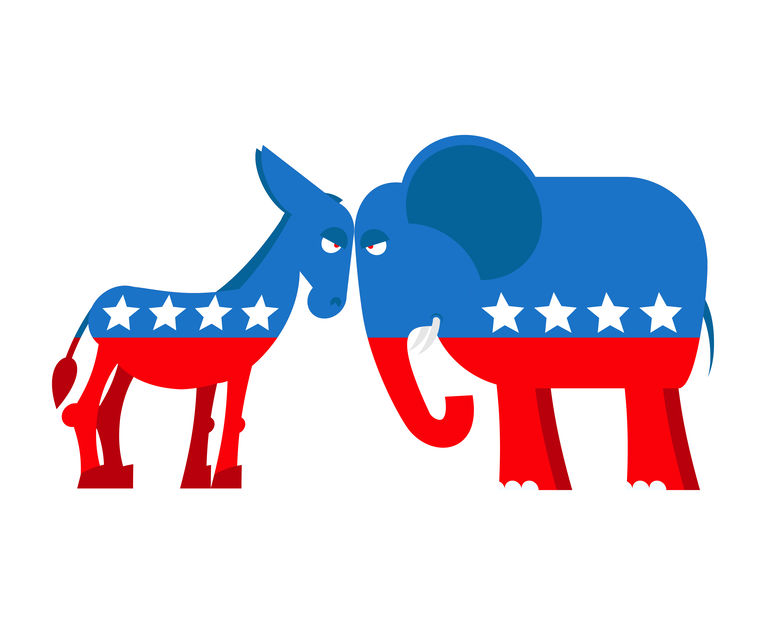 A new commandment I give unto you, That ye love one another; as I have loved you, that ye also love one another.

John 13:34 KJV
But I say unto you, Love your enemies, bless them that curse you, do good to them that hate you, and pray for them which despitefully use you, and persecute you;

Matthew 5:45 KJV
Do you think Jesus really meant what he said, that we should actually love one another, even our enemies?
For all the people in the world who say they love Jesus and claim to be Christians, but who disobey this command of his, it seems they really don't take Jesus too seriously on this point.
That's kind of odd because the last time I checked, Jesus didn't say we could pick and choose which of his commandments we wanted to obey. It's not a buffet. He said, "If you love me, keep my commandments." (John 14:15) That means all of them.
You'd think by the way many politicians behave toward those in the opposite party, that there are very few Christians among them. But many of those who blatantly disobey Jesus claim to be his followers. Who do they think they are fooling?
This is also the case among Christians of different denominations. Whereas there are many who are more inclusive of those they disagree with on various points of faith, there are hoards of so-called Christians, spurred by their so-called Christian leaders and doctrines, who spew out hate, invective, and damnation-to-hell for anyone who even slightly disagrees with them on matters of faith.
Bu why should we be surprised?
This is not a new phenomenon. It's as old as the Bible and the human heart that has not yet actually yielded to Christ.
The Bible rebukes this tendency…
But the tongue can no man tame; it is an unruly evil, full of deadly poison.

Therewith bless we God, even the Father; and therewith curse we men, which are made after the similitude of God.

Out of the same mouth proceedeth blessing and cursing. My brethren, these things ought not so to be.

Doth a fountain send forth at the same place sweet water and bitter?

Can the fig tree, my brethren, bear olive berries? either a vine, figs? so can no fountain both yield salt water and fresh.

James 3:8-12 KJV (emphasis added)
"My brethren, these things ought not so to be." Let that sink in, way down deep in your soul.
Is there a solution to all this hatred and poison?
Of course there's a solution. It's called loving each other, even your enemies. Even your political or religious "enemies." Who knew!
But let's face it, there are a lot of people who claim to be Christians who don't really want to follow Jesus all the way. Following Jesus all the way, of course, is no small task under any circumstances. But when it comes to loving each other, especially our enemies, we often draw the line and go no further.
I hope you are not in that camp.
I will admit it has been very hard to love those who have blatantly or subtly tried to harm me or oppose everything I stood for, or those I strongly disagree with. But in seeking God's help to love them and actually discovering I could love them, has been a most amazing and liberating experience.
How to love your enemies
I'm not going to pontificate here. Let's get down to business.
Do you hate someone or does someone hate you?
Is there someone who riles you, pushes all your buttons, opposes what you stand for, or has worked to belittle or harm you? Do you treat anyone that way?
Has someone at church been poisonous toward you?
Has another church condemned your church or beliefs?
Have you ever condemned another church for its doctrines?
Do you get angry when a politician declares things you believe to be lies or uses the language of hatred toward others?
There are so many other examples…
First:
Pick out the person that angers you the most, that you feel the most hatred (or lack of love) for and put them on the top of your "love list."
You really cannot afford to put this off any longer. Don't be tempted to wait until the person or situation changes. They may never.
But you cannot afford to carry all that hatred and hurt around in your heart. It's worse than being in a dark, cold, rat-infested dungeon.
Do you really think the politicians are going to come up with solutions that will make everyone feel full of God's love? Of course not.
The only solution must start with you and me in the quiet of our own hearts. We must love and forgive as Jesus did.
Now just to be clear, to love someone does not mean you have to agree with them or give up your beliefs. I probably use this analogy too often, but if you and I are sitting across from each other at the table with the salt and pepper between us, we see them differently. For you, the salt is on the right. But for me it's on the left.
This could be a political, religious, or any other issue. The reason there are so many completely different opinions is government and religion (and everything else) is because we're only looking at things from our own perspective.
If I get angry, start yelling, and tell the world how stupid you are because you have been deceived by the belief that the salt is on the right, it's all too easy for you to get mad and start calling me names.
"My brethren, these things ought not so to be."
Second:
Admit you need help learning to love. You can't do this by yourself. The human heart, on its own, does not have the capacity to love and forgive the way Jesus wants us to. You're going to need God's help. There's no other way.
Third:
Have a nice big slice of humble pie. Maybe two or three if necessary.
You might just have to admit that someone else is right and you are not. Maybe you're right and they're wrong. But that's not really the point in loving them. As I said, it's okay to disagree. There are honest differences of opinion and perspective. But it is NOT okay to hate.
However wrong or nasty someone else may be does not give you the right to act that way. You're going to have to get rid of your hate and desire for revenge. That's where the humble pie comes in.
Eventually you will come to appreciate how delicious humble pie is, but it may take a while and you may have to eat several more slices before you realize it. Oh well. God's got your back on this one.
Fourth:
Actually start trickling out a little love toward the person. It may seem impossible at first. But hey, did you ever fall off your bike when you were learning to ride it? I sure did. I ran right into a tree and landed in the grass. My dad helped me get back up and off I went.
It may take practice. You may not do it perfectly at first. So take little tiny steps. Just agree to love this person with all your heart for one minute. One minute. You can do that.
Try to imagine them as a new born baby, before all the things you dislike about them became part of their life. Mentally, hold them in your arms and love them.
Really stretch your heart and love them for two minutes. Then five; then ten. Watch out. You're entering into foreign lands. But God will show you the way.
Fifth:
Keep at it. The more you love, the better you'll get at it. Ask God to help you grow in your love for this person. They may not change. But you will.
Keep. Loving. Them. No. Matter. What.
Finally:
Rinse and repeat. Add another person you hate or who hates you to your love list.
You're right, this is not easy. But it is so worth the effort. And God will bless you for it.
But you don't have to love others in this way. You can keep living your life full of hate and reacting to others' hate. If that's what you really want. If that brings you happiness and peace of mind.
However, if you really love Jesus and want to follow him completely, you will embark on this journey of love. There's really no option. To follow Jesus is to give up your own agenda, personal opinions, and preconceptions and instead to obey him. In everything.
You can do this with God's help.
Go now and love someone. Love all the Republicans and Democrats. Love all the Christians who are obeying Jesus and those who aren't. Love all Christians whether you agree with their doctrines or not. Love all mankind whether they believe in Jesus or not. Just love.
The more you love, the more you will grow spiritually and the bigger will be God's smile.
Blessings to you,
James
P.S. I'd love to hear how you have loved someone whom you previously "hated." Please share below so everyone can benefit from your experience.