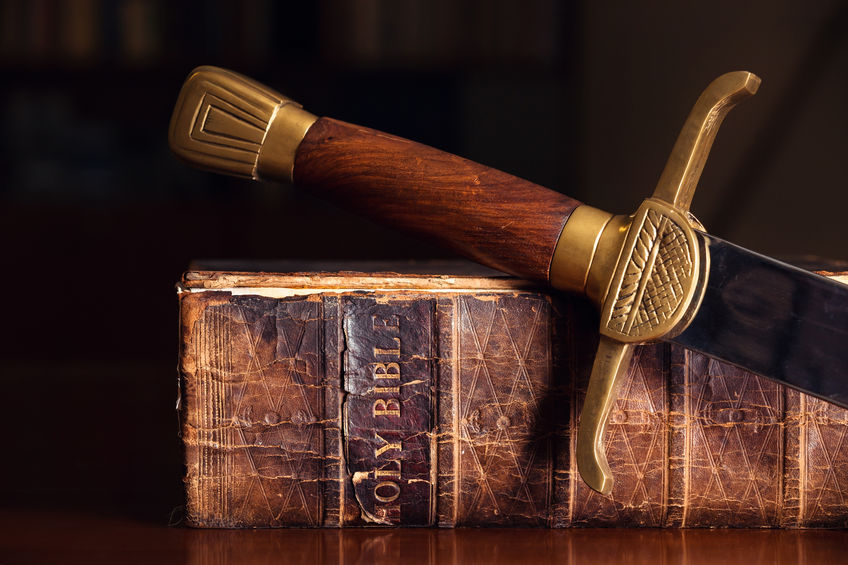 Someone once told me that Abraham Lincoln liked a preacher who looked as if he was fighting off a swarm of bees while preaching. I don't know if that's really true or not. It paints a wonderful picture in my mind though.
But swatting at the air in a sermon denouncing evil does not automatically destroy the evil being denounced. It does about as much good as blowing all the dandelion seeds off a stalk and thinking you've gotten rid of your weed problem. It takes more than words and hand gestures.
If you could sum up the story line of the Bible in three words, it might be: Good overcomes evil. That does seem a little condensed however. I appreciate all the stories and inspiration in the Bible that give examples of how good actually did and will overcome evil.
The question is: How can we take that message of the ultimate supremacy of good over evil and apply it to the challenges going on in our own lives and the world as a whole?
Next to Jesus' victory over death and sin, which in itself is a prophecy of the ultimate defeat of all evil, one of the most encouraging passages in Scripture is found in Chapter 12 of Revelation.
A woman, clothed with the sun, gives birth to a man child, who is to rule all nations. A great red dragon is poised to devour the child as soon as it's born. But the child is caught up into heaven. Then Michael, the archangel, fights against the dragon, alias the serpent or Satan, and casts him out of heaven.
Then in Revelation, Chapter 20, the dragon is finally and completely defeated. If you want more details, go read those two chapters.
The point is that good does ultimately win out over evil.
But is this just some far-off-in-the-future victory? If so, it doesn't seem to do us much good in the here and now of our struggle with evil influences.
How do we overcome evil?
There are so many examples in the Bible about this that I can't talk about all of them, but I'll share a few things that have been helpful to me.
First, I think it's important to remember the bigger picture that evil will eventually be overcome. That doesn't mean we don't have to confront it in our own lives. But it gives me the courage to persevere. I believe that Michael's defeat of the dragon is also a prophecy of every little victory over evil that leads up to the final one.
Second, Jesus gave a definition of the devil that exposes the nature of evil. When you see evil for what it is, and for what it isn't, you are better equipped to defeat it. He said of the devil,
He was a murderer from the beginning, and does not stand in the truth, because there is no truth in him. When he lies, he speaks out of his own character, for he is a liar and the father of lies.

John 8:44 ESV
"He was a murderer from the beginning…there is no truth in him…he is a liar." Those are strong words. They are the two edged sword that comes from the mouth of the Son of Man (see Revelation 1:16).
Jesus exposes the commonly held but false theological doctrine that Satan is a fallen angel; the devil was "a murderer from the beginning." Not an angel and then a murderer. Jesus sets the record straight and thus saps any supposed authority and power that might still belong to a being who was once an angel of God's creating.
Many churches insist that God has allowed Satan to have power, or has, in fact, given him power. In effect, when you strip away all the theological posturing and man-made doctrines from this teaching, all you have left is that God made evil or that He didn't make it but allows it.
If God made evil, then He is a house divided against Himself and His house will fall. I can't swallow that one. If God didn't make evil but allows it, then He did not create everything and He is not supreme. I can't swallow that either.
But Jesus pops this inflated man-made doctrine with this simple fact: there is no truth in Satan. Everything he says is a lie. All lies have their source in him.
There is no truth in Satan
"There is no truth in him." Do we dare to take in this profound truth and admit its consequences?
We say God is the only Creator. But if we also say Satan is a creator – of lies, then we believe in two creators; one good, one evil. But the fact remains that God is the only Creator. The lies told by Satan have no truth in them, no power, no place in the kingdom of heaven.
When we strip off Satan's disguise of power and authority, all we are left with is a pack of lies that we can refuse to believe. And the only power a lie can ever have comes from someone believing it.
How to defeat the devil
Here is the "simple" solution for overcoming evil: know that it has no source or authority from God. If you believe that God creates, condones, and allows evil, you are fighting a losing battle. And yet, there are many churches which teach this very doctrine. Who are we to overcome evil if God creates or allows it, won't or doesn't destroy it?
Jesus illustrates this very point and shows us how to overcome the devil. When he was tempted, he used the Scriptures as his defense. But they weren't just words. The verses he quoted were a deep-down part of who he was as the Son of God. We, too, must imbibe the truths in the Bible and live them in our lives. This is our starting point for victory over evil.
Jesus also tells us how to dis-empower Satan. He says, "But no one can enter a strong man's house and plunder his goods, unless he first binds the strong man. Then indeed he may plunder his house." Mark 3:27 ESV
Jesus is saying we have the ability to tie up the "strong man" and remove all his goods. The "goods" of Satan are his lies.
We have to accept this ability. If you doubt your capacity to "bind the strong man" you will have trouble doing it.
I'm reminded of how a little girl from Sunday School paraphrased Jesus' comment when she was sick: "You're a big, fat liar. Get lost!" Satan's lie of sickness didn't have a chance. She was instantly well.
Remember when Jesus sent out 70 of his followers to preach the Gospel (some ancient Bible manuscripts have the number as 72), and heal the sick? On their return, they reported healings and demons being cast out. Jesus used these proofs of the power of good over evil to emphasize this point:
Behold, I have given you authority to tread on serpents and scorpions, and over all the power of the enemy, and nothing shall hurt you."

Luke 1:19 ESV
Do you think this only applies to his disciples 2,000 years ago? Absolutely not. Christ gives us this same authority and power to bind the strong man, and over all the power of the enemy.
Accept your power over evil
If you don't acknowledge or accept this power, or don't think you are worthy of it, you will not be able to use this weapon Jesus has given all his followers to overcome evil. The 70 people Jesus sent out to preach and heal were possibly not that much different than you. But they accepted the call. They obeyed the commission. And they had some amount of faith.
But most importantly, they did all these things because they believed it was possible. If they had doubted the possibility of the mission or their ability to accomplish it, they would have failed. Or not even tried in the first place.
Isn't Christ sending you and me out into the world today with the same power and authority over evil on the same mission of preaching and healing?
Sometimes we give up too soon when facing evil, or never begin the fight because we don't think we are capable, or we accept a problem as God's will.
But what if you felt the power and presence of God to the degree that you knew you could not fail in overcoming evil? Would you pray differently?
Jesus gave us many "weapons" for our victory over evil, both on a personal level as well as in the larger arena of our community, our nation, and in fact, the whole world. I have shared a few of them in this blog post.
A perfect example
I heard a great example of overcoming evil several years ago at a church program. The speaker told of a gang who had locked arms across a busy sidewalk in a large city during the lunch hour. No one could pass them except by spilling out into the street, full of traffic. Tempers were flaring. Consternation was rampant. And fear was taking hold.
Along comes a little grandmotherly lady, and by little, I mean she was very short and petite. As she approached the scene and realized what was going on, she started to pray to see that God was in charge, not those hulking and very ominous gang members, in their black leather, studded jackets.
She got a very clear sense of God's love for them as His children, and she felt at peace. She saw them in the light of children playing a game.
She decided to go up and talk to the one who seemed like the leader. She did not say, "God loves you. Please let us all pass by." That probably would not have made much difference. Instead, the words that came out of her mouth, completely unintimidated by the situation and with a twinkle in her eye, were, "That looks like fun. Can I join you?"
The leader cracked up laughing, along with those next to him. It broke the spell. The gang members dispersed and everyone went on their way.
It wasn't her words that solved the problem. It was the love in her heart and her lack of fear. It was her conviction that good is stronger than evil.
This is just one example of how you and I can overcome evil in the daily path we tread.
Never doubt your ability to use the tools Jesus has given you. He has exposed Satan as the liar and imposter that he is, given you the power and authority to defeat his lies, and set the stage for the final victory over evil.
Do you have an experience to share? I'd love to hear it.
All blessings to you,
James