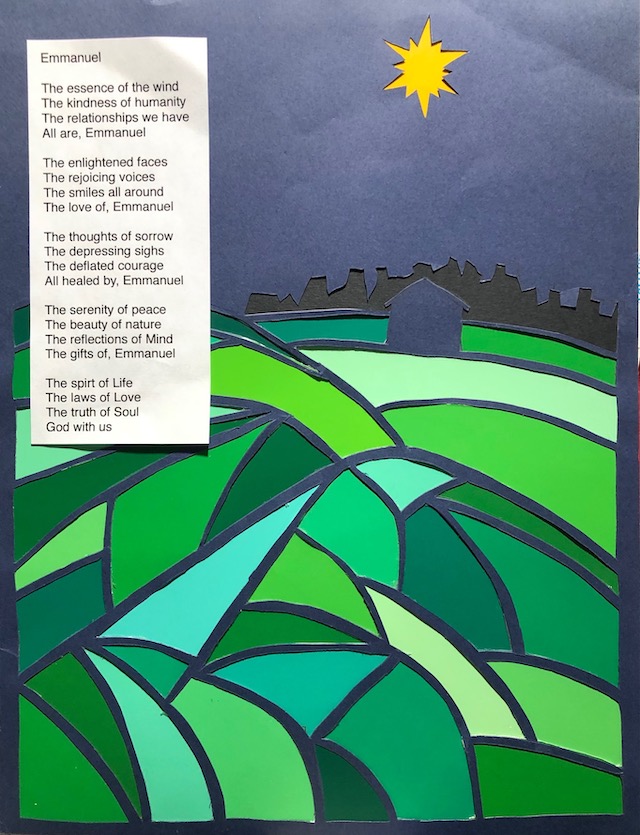 What is your approach to giving at Christmas?
Last week I got an email from one of my listeners with a question about giving at Christmas. It inspired this week's episode. Here it is:
"Dear James I listen to you every week and love all you have to say. I have been struggling with Christmas coming up and how I will afford it all. Last night I had a deep prompt to trust in all I have, that it will be enough and absolutely not to borrow any money. In my mind I remembered the loaves and fishes and the water into wine. This morning I got up and read the gospel and it was all about the loaves and fishes. I feel reassured but still scared – James I wondered if you could talk about all of this I am sure there are many like me who this would help."
So this week, we're going to talk about the true spirit of giving, especially as it relates to Christmas.
Do we need more stuff?
The human heart is simply crying out for love. God is giving us all the love we need through the presence of the Christ.
Isn't that enough?
Why do we sometimes think we need more material things and that these things will somehow make us happy and satisfy our deep inner yearnings.
When we fall for all those material trappings, we risk ignoring God's incredible gift to us, the birth of Jesus and the appearing of Christ today in our lives.
And sometimes, even when we don't feel the need for all these material things ourselves, others do, and we feel pressure to give the way others do.
God's way to celebrate Christmas
Is this material gift giving  how God wanted us to celebrate Christmas, when the angel announced to the shepherds outside of Bethlehem…?
I bring you good tidings of great joy which will be to all people.
For there is born to you this day in the city of David a Savior, who is Christ the Lord.       Luke 2:10, 11  NKJV
It's time to take a step back from the commercialism that has tried to smother the true meaning of Christmas and focus instead on and receive the greatest gift of all time, the birth of Jesus.
Instead of just going along with people who focus on giving and wanting to get a bunch material gifts, we need to set the example of a more spiritual approach to giving.
Getting away from the over commercialization of Christmas
The first step in getting a better sense of what Christmas giving is all about is to quit focusing on the material circumstances you find yourself in, regardless of whether you feel a sense of material prosperity or a sense of lack.
Jesus said emphatically that we should first seek the kingdom of God and His righteousness and then God would give us all we need (see Matthew 6:33). He doesn't say we get everything we want.
And that's the next step, to search for the kingdom of God.
But what does that even mean?  To someone focused on accumulating material things, to search for the things of the Spirit doesn't even make sense.
How do we seek the kingdom of God?
We look for every tiny example of God in charge of the universe: unselfish love among friends, a stranger helping you, every time you genuinely forgive someone or someone forgives you. Or maybe it's just a glorious sunset or birds singing in the morning.
There is so much of the kingdom of God all around us. We just need to open our eyes to see it.
No amount of money can buy the kingdom of God. No Christmas present, however expensive, can satisfy someone like experiencing a taste of the kingdom of heaven will.
So does that mean we don't ever give presents to our friends and family at Christmastime?
It might, but not necessarily. That's something everyone involved needs to talk about together to find what works best. And things can evolve over time.
Is it okay, then, to give gifts at Christmas?
What if you don't want to participate in all the expensive gift-giving but still want to exchange gifts?
It's always appropriate to do what God directs you to do, to express love to your friends and family, and giving gifts at Christmastime can often be an expression of that love.
So, if you have a right desire to give gifts at Christmas and don't feel you can afford everything you want to give or do, or maybe you don't even have sufficient funds to buy enough groceries to get through the holidays, there is a spiritual solution.
People often refer to the Magi who brought gold, frankincense, and myrrh to baby Jesus—as a reason to exchange expensive gifts at Christmas. You can find that story in Matthew chapter 2
I will simply point out that these high cost items were well within the budget of the givers. It's not an excuse or a guilt trip to make you give gifts beyond your means.
But there is no record in the Bible that the shepherds, who came to see baby Jesus, brought gifts. They just brought their love and sense of wonder.
Sometimes that's enough. Just to be in awe of the birth of Jesus.
Giving at Christmas is not about the money
The Bible is full of stories of people who didn't have enough money to do what the needed to do. They're not necessarily about Christmas, but they point out that money is not the real solution. God is.
Remember the widow whose sons were going to be taken to pay her debt. (You can read the whole story below in the Scripture references and in 2 Kings 4:1-7.)
She didn't have enough money to pay a debt. And God met her need. But this was not an extravagant demand for an expensive gift. It was a genuine need.
What about when Peter needed to pay his taxes but didn't have the money? Jesus told him to go fishing, to just go about his normal routine, doing what he was best at and knew how to do.
There was a coin in the mouth of the first fish he caught, just enough to pay the tax for himself and Jesus too. (Matthew 17:27)
Again, God provided a way to meet a genuine need.
It's really not about the money
Okay, so you may feel a genuine need to give gifts at Christmas. That is perfectly okay. But it's important to remember it's not about how much money you spend.
Jesus measure the value of money by the motive behind it.
When a poor widow put only two small copper coins into the collection box at the Temple, Jesus made a point of explaining she had given more than all the rich folks giving lots of money. (Mark 12:41-44)
How does this story apply to how and what we give at Christmas?
It's not about how much money you spend, it's about the motive and the love you feel in your heart.
The most valuable gift
One of the most valuable gifts I have ever received was a Christmas poem written on a paper cut out scene of the Star of Bethlehem over the stable given to me by my very young daughter. (See the picture at the top of this post.)
She used paper we already had in the house. It cost her time, inspiration, and love. The value didn't have anything to do with the amount of money we had already spent on a few pieces of colored paper.
Don't substitute the money in your wallet for the love in your heart.
Spiritual giving at the holidays
I knew a lady years ago when I lived in Amarillo, Texas. Her husband was a builder. He had a lot of work but his clients had not paid him for months. The holidays were approaching and there was no food left in the house for her family of three young boys. She had seen this coming for weeks and had been alternating between fretting and praying about this for days.
The day before Thanksgiving, she prayed earnestly to know what to do. (Okay, this is a Thanksgiving story, but the ideas still apply to Christmas.)
She told me she completely surrendered to God and realized it was His job to take care of her family and not her responsibility in this situation.
She was lost in this prayer when the doorbell rang. Her neighbor had several bags of food and asked my friend if she could use her holiday meal. She had been called out of town unexpectedly to take care of a relative and she didn't want the meal to go to waste, since she didn't know when she would be able to come home.
There was a big turkey, lots of vegetables, and all the extras. Then the neighbor said, Could you use a gallon of milk. I just bought it and it will go bad before I get home.
My friend was completely overwhelmed with how God had met her needs. That food lasted her family for more than a week. And by the time they eaten everything her husband finally got paid for his construction work.
God does not need money to help you
Here's another example of how God does not need money to give you what you need. And you don't need money to receive what God is giving you or to give something to someone else.
It's not about the money. It's about God's love for you, your love for God, and your love for others.
And getting back to giving gifts at Christmas, why does it have to be something material? Most of us do not need more material things to clutter our lives.
More spiritual giving needed
Beyond the necessities of life, we need to give and receive fewer material gifts. We need to give and receive more spiritual gifts.
What on earth is a spiritual gift? How do you give and receive such a gift?
The most obvious spiritual gift is love.
Give someone genuine love this Christmas, whether you give them a physical gift or not.
How about appreciation, letting someone know how much you treasure them as a friend, relative, church member, business associate, or teacher.
What about being of service to someone, like raking a neighbor's leaves, shoveling someone's sidewalk after a big snow, or running errands for someone who can't get out of the house.
Just visiting someone who doesn't have anyone to talk to.  Actually listening to someone and valuing then, even if you don't agree with it everything they say.
Being patient with your children or spouse.
And of course there's the joy and gratitude you can give someone to brighten their day.
A beautiful example of spiritual giving
Another friend of mine had a wonderful idea for Christmas gifts one year.
She and her husband decided not to give traditional presents that year. Instead they thought of all the qualities in each family member they appreciated.
They wrote each quality on a separate slip of paper and then put all the slips of paper for one person in a beautifully hand-decorated box. They made boxes like this for each member of the family.
This was not what those family members were expecting to get for Christmas, but in the long run, it had a healing effect on some tough family relationships.
Your spiritual giving at Christmas
This Christmas, I encourage you to think about what and how you give gifts.
It's really helpful to take an honest look at our motives for why we do what we do. Don't let the commercialism of the season, the expectations of others, or your sense of obligation determine your Christmas giving this year.
Let God guide you in whatever you do.
Regardless of whether you exchange gifts with your friends and family, and under whatever circumstances, the best and most generous gift you can give is the love of Christ.
What would your Christmas be like if you loved everyone this way?
Jesus told his disciples,
So now I am giving you a new commandment: Love each other. Just as I have loved you, you should love each other.       John 13:34  NLT
We're supposed to love each other the way Jesus loved us.
When you love the way Jesus did…
What will your Christmas be like when you love everyone the way Jesus loved his disciples?
Yes, even those difficult-to-love family members and friends.
What will happen when we love like that?
And how did Jesus love his disciples? He tells them,
I have loved you even as the Father has loved me. Remain in my love.       John 15:9  NLT
So we are supposed to love each other the way Jesus loved his disciples. And he loved his disciples the way the Father loves him. That means we are supposed to love each other the way Father loves Jesus.
Can we love this way?
Just ponder that a moment.
It sort of seems impossible, right?
Can we possibly love each other that way? And this would include loving ourselves, since we're supposed to love our neighbor as ourselves.
Can we love this way?
Well, Jesus must have thought so or he wouldn't have said what he did.
I'll ask again, What will your Christmas be like when you love your family, your friends, and everyone you come in contact with, the way God loves Jesus?
Can you think of a better Christmas present to give?
∞∞∞∞∞∞∞∞∞∞
James Early, the Jesus Mindset Coach, is a Bible teacher, speaker, and podcaster. He conducts Bible workshops online and in person. His focus is on getting back to the original Christianity of Jesus by embracing the mindset of Christ in daily life. Contact him here.

When you subscribe to The Bible Speaks to You Podcast, you'll receive a copy of the prayer guide, "Praying with the Mindset of Jesus."
Bible References in this episode
Luke 2:10, 11  NKJV
10  I bring you good tidings of great joy which will be to all people.
11  For there is born to you this day in the city of David a Savior, who is Christ the Lord.
Matthew 6:33  NKJV
33  But seek first the kingdom of God and His righteousness, and all these things shall be added to you.
Matthew 2:1, 11  KJV
1  Now when Jesus was born in Bethlehem of Judaea in the days of Herod the king, behold, there came wise men from the east to Jerusalem,
11  And when they were come into the house, they saw the young child with Mary his mother, and fell down, and worshipped him: and when they had opened their treasures, they presented unto him gifts; gold, and frankincense, and myrrh.
2 Kings 4:1-4, 6, 7   NKJV
1  A certain woman of the wives of the sons of the prophets cried out to Elisha, saying, "Your servant my husband is dead, and you know that your servant feared the LORD. And the creditor is coming to take my two sons to be his slaves."
2  So Elisha said to her, "What shall I do for you? Tell me, what do you have in the house?" And she said, "Your maidservant has nothing in the house but a jar of oil."
3  Then he said, "Go, borrow vessels from everywhere, from all your neighbors—empty vessels; do not gather just a few.
4  "And when you have come in, you shall shut the door behind you and your sons; then pour it into all those vessels, and set aside the full ones."
6  Now it came to pass, when the vessels were full, that she said to her son, "Bring me another vessel." And he said to her, "There is not another vessel." So the oil ceased.
7  Then she came and told the man of God. And he said, "Go, sell the oil and pay your debt; and you and your sons live on the rest."
Matthew 17:27  NLT
27  However, we don't want to offend them, so go down to the lake and throw in a line. Open the mouth of the first fish you catch, and you will find a large silver coin. Take it and pay the tax for both of us."
Mark 12:41-44  NLT
41  Jesus sat down near the collection box in the Temple and watched as the crowds dropped in their money. Many rich people put in large amounts.
42  Then a poor widow came and dropped in two small coins.
43  Jesus called his disciples to him and said, "I tell you the truth, this poor widow has given more than all the others who are making contributions.
44  For they gave a tiny part of their surplus, but she, poor as she is, has given everything she had to live on."
John 13:34  NLT
34  So now I am giving you a new commandment: Love each other. Just as I have loved you, you should love each other.
John 15:9  NLT
9  I have loved you even as the Father has loved me. Remain in my love.