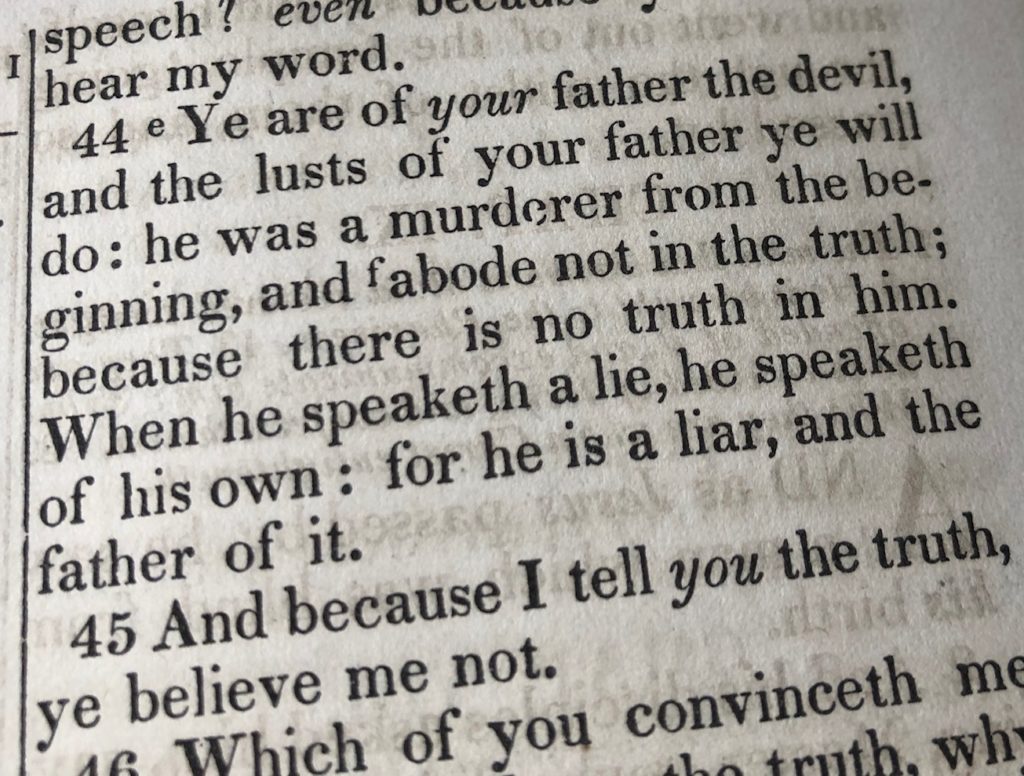 Who am I to disagree with Billy Graham? Not to mention so many Christians, who believe that Satan was once an angel.
Oh well, here goes.
While I deeply appreciate and revere Reverend Graham's or anyone's, commitment to Christ and all they have done to bring the message of salvation to the world, I cannot join hands with them on this teaching that the devil was originally an angel in heaven.
The Scriptural texts used to support this theory are taken out of context and twisted to say things that are not accurate. And other sources, ancient and modern, are used as authority for things not found in the Bible.
But in this discussion, I'll refer only to things in Scripture.
Let's look at one of the most often quoted Bible verses on this subject.
How art thou fallen from heaven, O Lucifer, son of the morning! how art thou cut down to the ground, which didst weaken the nations!

For thou hast said in thine heart, I will ascend into heaven, I will exalt my throne above the stars of God: I will sit also upon the mount of the congregation, in the sides of the north:"

Isaiah 14:12, 13 KJV
Everyone I have ever heard expostulate on Satan, including Billy Graham, uses this verse to "prove" he was originally an angel who has fallen from heaven. But if you read the whole chapter these two verses are part of, you get a very different picture of what's being discussed.
If you haven't read all of Isaiah chapter 14 recently, I suggest you do that sooner than later.
At first glance, you can see why many people associate this passage with Satan. There's all kind of hell imagery. Fallen from heaven. The grave. Worms. Death. Wicked kings. Brought down to hell. The sides of the pit.
None of these verses is referring to Satan or an angel. Check out verse 4: "…thou shalt take up this proverb against the king of Babylon, and say, How hath the oppressor ceased! the golden city ceased!"
This passage is referring to the king of Babylon, a man not an angel, nor an angel who has fallen from heaven and become Satan.
The fact that this passage refers to a man is re-emphasized in verse 16: "They that see thee shall narrowly look upon thee, and consider thee, saying, Is this the man that made the earth to tremble, that did shake kingdoms;"
Notice those words, "Is this the man…" If this was referring to Satan, who had previously been an angel, the passage would have to read, "Is this the angel…"
What does Ezekiel have to say?
Another passage heavily quoted to bolster up this man-made doctrine that Satan is a fallen angel is in Chapter 28 of Ezekiel. You'll need to read the whole chapter to see the complete picture. In fact, you really need to read Chapters 25 – 32 to get the overview of what God is commanding Ezekiel to say to various rulers and countries who have defied Him and treated the Children of Israel with contempt.
In Chapter 25, God rails against the Ammonites, the land of Moab and Seir, the Edomites and Philistines. Chapters 26 – 28 focus on Tyre (Tryus) and her rulers. The last half of Chapter 28 is a pronouncement against Sidon (Zidon). Chapters 30 – 32 are God's words against Egypt and its Pharaoh.
I mention all these chapters in Ezekiel because many of them contain imagery and metaphors to illustrate certain points. For example, Pharaoh is called a "great dragon that lies in the midst of his streams, that says, 'My Nile is my own; I made it for myself.'" (Ez 29:3)
And in verse 4, God tells Pharaoh, "I will put hooks in your jaws, and make the fish of your streams stick to your scales; and I will draw you up out of the midst of your streams, with all the fish of your streams that stick to your scales."
For all those folks who insist we have to take the Bible literally, this passage is going to present a few problems. Pharaoh was not literally a dragon in the Nile. He did not literally have scales. God was not literally going to put hooks in his jaw. These are metaphors to illustrate that God will deal decisively with Pharaoh.
There are many more metaphors and imagery in the other chapters mentioned above, which you can discover for yourself.
But let's take a look specifically at Chapter 28. Here's another hotbed of fallen-angel imagery that gets falsely attributed to Satan.
The chapter starts out with God telling Ezekiel to rebuke the ruler in Tyre (Tyrus-KJV):
Son of man, say to the prince of Tyre, Thus says the Lord GOD:
"Because your heart is proud, and you have said, 'I am a god,
I sit in the seat of the gods, in the heart of the seas,'
yet you are but a man, and no god, though you make your heart like the heart of a god—"

Ezekiel 28:1
Here again, notice the words, "yet you are but a man, and no god." Or angel, I might add.
But wait, there's more!
The rant against the king of Tyre continues using imagery to describe how wonderful the king of Tyre had been. Read the whole chapter for yourself. Here are bits of it:
You were in Eden, the garden of God; (v. 13)
You were an anointed guardian cherub. (v. 14)
You were blameless in your ways from the day you were created, till unrighteousness was found in you. (v. 15)
Your heart was proud because of your beauty; you corrupted your wisdom for the sake of your splendor. I cast you to the ground; (v. 17)
If you read these verses out of context and by themselves and then declare with wonder that they refer to Satan's previous status as a cherub or angel in heaven, many will agree with you.
But these verses are hurled at the king of Tyre. He was not literally a cherub in Eden anymore than Pharaoh was a dragon in the Nile with scales.
The final proof that this does not refer to Satan or a fallen angel but a man is when God says to him, "you have come to a dreadful end and shall be no more forever." (v. 19 ESV)
It doesn't say, "You will come to a dreadful end, sometime in the future," but "You have [already] come to an end and shall be no more forever." If this were referring to Satan, it would mean he is already destroyed and doesn't exist anymore. But those who believe in Satan are convinced he is still alive and about his business.
Sorry, but you can't have it both ways.
It looks to me that if you insist on taking the Bible literally, you will have to admit that the devil is a fallen man, either the king of Tyre or Babylon, or both. I'm not sure how that works.
What does Jesus say about the devil?
To me, the most convincing evidence in Scripture that Satan is not a fallen angel comes from Jesus himself. He said of the devil,
"He was a murderer from the beginning, and does not stand in the truth, because there is no truth in him. When he lies, he speaks out of his own character, for he is a liar and the father of lies."

John 8:44 ESV
He was a murderer from the beginning. He is a liar. There is no truth in him. These are strong words. Jesus makes it clear that the devil was not an angel in the beginning, but always a murderer with no truth in him. Everything Satan says is a lie. If he told the truth, he would self-destruct.
Satan's biggest lie
And one of the biggest lies Satan has told for centuries is that he used to be angel. That's exactly what he wants you to think. And he has fooled the multitudes with this lie. But Paul exposes this as the lie it is when he warns the church in Corinth, "even Satan disguises himself as an angel of light." (II Corinthians 11:14 ESV)
It's only a disguise, one of many. Don't. Be. Fooled. By. This. Lie.
There are other passages in the Bible that people take out of context to justify their belief that the devil is a fallen angel. For example, when the Seventy returned to Jesus to report the healings that resulted because of preaching the Gospel, he said to them, "I saw Satan fall like lightning from heaven." (Luke 10:18 ESV)
"Aha! See there," say they. "That's proof that Satan was a fallen angel." But is it really? Jesus is once again using a metaphor to describe Satan's demise. And there is a problem with the chronology. If that is when Satan fell from heaven as an angel, what happened to the elaborately concocted backstory that his fall happened before Adam and Eve were in the Garden of Eden?
And in case you didn't notice, Jesus doesn't say he saw an angel fall from heaven. It was Satan.
Revelation 12
Revelation 12 is also frequently cited as a case for Satan being a fallen angel. But the time problem also shows up there. Yes, the great Red Dragon, or Satan, is cast out of heaven by Michael, the archangel. But the book of Revelation is a prophecy of what is to come, not a description of what has already taken place. Revelation refers to something very different, the final victory over evil, not the beginning of creation. In this passage, Satan is not an angel in heaven. He is the original serpent from Eden now turned dragon.
When you take bits and pieces of the Bible and rearrange them to make a different picture of what's going on, you can make the Bible say just about whatever you want. In fact, the problem is that we often come to the Bible with preconceived notions and then try to find bits and pieces to "prove" our point. But that just won't work in the long run. It's like trying to hold water in a bucket with holes in it.
So there you have it. My case against Satan being a fallen angel. I could say much more, but I'll leave it there.
Perhaps the real question is why people hold onto this false doctrine. Partly because we were taught it and we didn't do our own research. And because we need some mechanism to explain evil. We have to have some reason to articulate why it exists. If we can find a way that God had something to do with it, we accept it, even if it doesn't make sense. That's exactly what the devil wants us to believe, that God created evil.
How could God make something the opposite of Himself? How could He create evil or the possibility of evil if there is no evil in Him? He would be a house divided against itself, which Jesus tells us cannot stand.
But that's exactly what many people believe.
I simply ask you to re-examine your beliefs about the devil. Read the chapters from Isaiah and Ezekiel mentioned above. Do some more research. If you only read things you already agree with, you won't get any fresh perspectives.
Don't agree or disagree with me just because of what I have written here. Please, please do your own searching of the Scriptures. And don't take things out of context.
As always, I welcome your thoughts and perspectives. I am always open to honest conversation on these kinds of topics. If there is something you feel I have overlooked on this subject, please let me know.
In closing, I repeat Jesus' definition of Satan. "He was a murderer from the beginning. He is a liar and the father of lies." The only power Satan has is if you believe his lies.
Gratefully, Jesus gave us the remedy for all time from Satan's lies: "You will know the truth, and the truth will set you free." John 8:32
God bless,
James