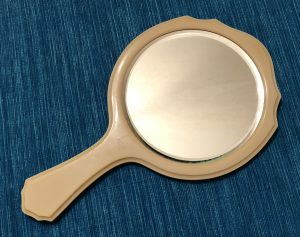 But we all, with open face beholding as in a glass the glory of the Lord, are changed into the same image from glory to glory, even as by the Spirit of the Lord.

II Corinthians 3:18 (KJV)
I love this verse Paul wrote to the Church at Corinth. It is full of such a timeless promise. I've read it so many times, but every time I come across it, it brings a ray of light to my day. And I usually think I know pretty much what it means. But the other day, I got a new insight into its deep significance.
In the King James Bible the word "changed" in this verse is used to describe the transformation we go through when we see God's glory with an open face, or unveiled face (English Standard Version).  But the word "changed" in the original Greek is metamorphoo, which is the same word used for "transfigured" to describe Jesus' transformation on the Mount of Transfiguration. (See Matthew 17:2 and Mark 9:2. Luke 9:29 uses two Greek words to describe the change in his appearance: ginomai heteros – to cause to be different.)
When Moses came down from Mount Sinai after talking to God (see Exodus 34:29), his face was shining. It totally freaked out the Israelites. Even his brother Aaron was afraid to come near him. They made him put a veil over his face to hide that divine glow. They just couldn't handle it. So, whenever Moses would talk to the people, he covered his face. When he talked to God, he took the veil off.
Moses was changed
He was a different person after talking to God so directly.
This is what Paul is getting at. When we look in the mirror of God and see His glory, we are transformed and our view of ourselves is changed. We see ourselves as the glory of God.
No wonder people wanted Moses to put a veil over his face. They just couldn't handle all that glory.
Are we any different today? Why are we so unsure of our nature as the image of God's glory? It's because we are looking in the wrong mirror.
Jesus said not to judge after the outward appearance of things. Why do we not obey him more often on this point? If you are looking at yourself, and others for that matter, in the world's mirror of materialism, selfishness, fear, doubt, etc., you will not see God's glory nor yourself as a reflection of that glory.
Quit looking in the world's mirror at yourself. Quit believing what the world says about you.
Pick up the mirror of God's glory. You have a right to. You have the ability to. Pick it up. Look at yourself in the light of God's glory.
And take the covering off your face. Get rid of all those filters in your heart that don't let the light of God shine through. You know, like feeling unworthy, carrying around past hurts and past mistakes. And what about the feeling that you're not good enough in God's eyes. Or that you don't deserve His love and blessings. On the surface most of us don't think we feel this way. But I have talked to so many people who, way down deep, still feel unforgiven and unworthy of God's love. All that negative self-talk has to go. That's the veil. Take it off.
Take off the veil
Paul says there is only one way to remove the veil, the covering that doesn't allow us to see God's glory or our own: the veil "is done away in Christ." When we "turn to the Lord, the veil shall be taken away." (II Cor 3:14, 16)
The veil represents a separation from God and an inability to perceive God's nature, and that only a few were entitled to talk to God, to be in His holy presence. Jesus' crucifixion changed all that.
At the moment Jesus died on the cross, the veil in the Temple in Jerusalem was ripped in two from top to bottom. Some Bible scholars estimate the veil was about 60 feet high and perhaps 4 inches thick. That is some piece of fabric. You'd have a hard time making even a dent in it with a chain saw.
But Jesus' crucifixion ripped it down the middle.
From the material world's perspective, the sins of unrighteous men had destroyed Jesus. Death and sin had triumphed over him. But spiritually, just the opposite was true. Jesus was actually crucifying and destroying death and sin.
That immense veil, which literally  separated mankind from the holiest part of the Temple and figuratively from the presence of God, was removed. Jesus showed us we have the right to be in the holy presence of God, to see His glory, and to be like His glory.
Look in the right mirror
Are you looking in the mirror of God's glory? Are you looking in the mirror of your own glory, or perhaps your own misery. The key is to look at God's glory. Keep your focus on who and what God is. The more clearly you see His nature, the more you will see your nature in that same light.
Let's take a few aspects of God's nature and look in the mirror at them.
We'll start with Justice. Focus on God being just. Think about the phrase, "divine justice." I'm not talking about what you think God should do to get back at the people who have done you harm. That's a desire for revenge and retaliation almost. God's justice justifies man, or put another way, makes man just. God's justice redeems and purifies our hearts. It is so far above our sense of justice. The more you see of true spiritual justice that redeems man from sin and all the ills of the flesh, the more just you will become.
What about wisdom? God is supremely wise. Look at His wisdom in the mirror. Marvel at it and you will find yourself being transformed into being more wise yourself. You can't make yourself wise on your own. The only real wisdom you can have comes from seeing God's wisdom.
And beauty! Why do most of us look in a mirror? Either to see how beautiful we are or what we need to do to be more beautiful. Think about the beauty of holiness. Look in the mirror to see God's beauty. The more you focus on His beauty, the more beauty you will see in yourself and your life.
And finally, let's look in the mirror and see God's love. It is impartial, universal, unfailing, always available, always redeeming, always guarding and guiding us. Keep your eye on this love. Keep looking in the mirror at this love and you will be transformed into being just like it.
We have a right to look into this perfect mirror of God and see His holy nature. We have a right to, and it is inevitable that we see ourselves as God's manifestation of glory, justice, wisdom, beauty, love, and so much more.
So, take off the veil. Set aside all doubts and fears, egotism or self-depreciation.
Christ is handing you the mirror. Take it and gaze upon the glory of God…