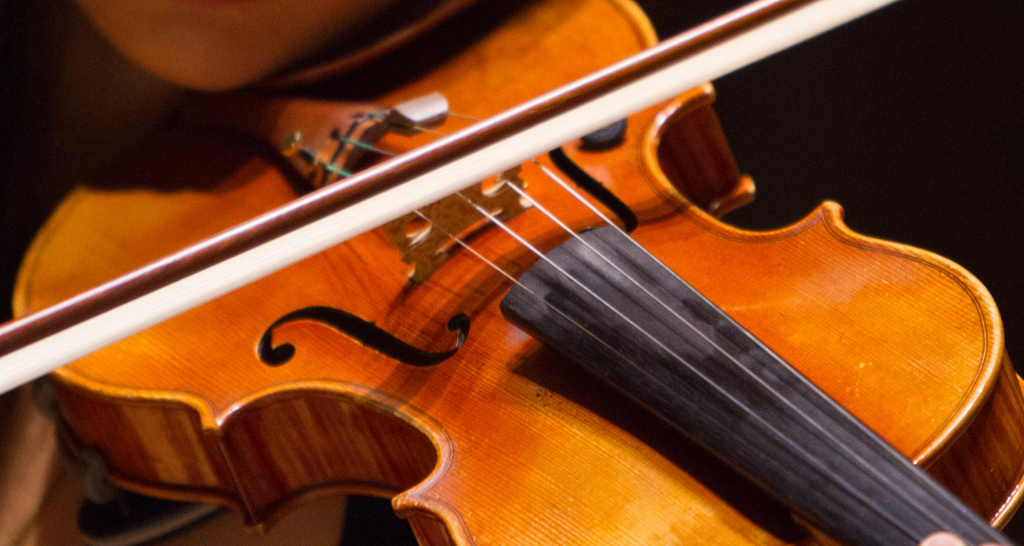 The LORD has appeared of old to me, saying:
"Yes, I have loved you with an everlasting love;
Therefore with lovingkindness I have drawn you."
Jeremiah 31:3  NKJV
God's "everlasting love." What a phrase. It emphasizes the unending love God has for us.
There's so much talk about unconditional love these days and how important it is, but it's not always so easy to express or receive, for that matter.
We say we want unconditional love from people and from God. But sometimes we don't really know what to do with it when we get it. It seems fake. Have you ever caught yourself thinking, "How could they love me so much? I don't really deserve it. I try to be a good person, but I make so many mistakes. If they knew all the bad stuff I have done, they would not love me so much."
We know God is supposed to love us unconditionally, but sometimes that's hard to accept as well. We try to please God and hope He will love us more when we make better life choices. But if we are thinking like that, we really don't understand what love is all about.
God loves you as much now as He always has or always will. Nothing you can do or not do can make Him love you more or less. Granted, God may not love something you do. But He always loves you the same with His infinite, eternal, everlasting, and unconditional love. I like to call it "omni-conditional," love in all conditions and situations.
A lesson from my dad
Many years ago, my dad inadvertently taught me more about the nature of unconditional love than I had ever grasped.
In third grade I was a toy soldier in the Christmas play at school. All the boys in my class had bright red sashes across our chests as we danced around the stage to music from the Nutcracker. Some of the guys never learned the steps correctly. Being a conscientious young lad of eight years, with a bit of pride, I took the whole thing very seriously and performed the dance without any mistakes.
Afterwards, my dad said he was so proud of me. He said I did the best job of all the boys. That felt good. I believed him, because I agreed with him. I basked in his approval and felt his love for me.
Fast forward to seventh grade. I played the violin and our fall concert was coming up. Of course my dad was there. He rarely, if ever, missed a concert of mine. After the concert my dad had that same look of pride on his face when he told me that I was the best one there. But this time I did not believe him. I told him I was not the best one there. His comments seemed superficial. Why? Because I was 23rd chair, 2nd violin. There were only a couple of kids worse than me. If I had truly been the best one, I would have been 1st chair.
How could he make such untrue comments? I was hurt and my pride was wounded. And I began to doubt my dad's judgement, at least as far as whether I was any good at anything or not.
This same pattern continued through high school. I was still in the orchestra playing the viola, ending up 3rd chair out of six my senior year. I was not bad but I was definitely not the best. Except of course to my dad.
He told me at every concert during high school that I was the best one there. I would argue with him. He was trying to compliment me, but I couldn't accept it. You think teenagers today roll their eyes at things their parents today? I had the biggest eye-rolls of all time when my dad would tell me how good I was.
By the way, my dad was not a musician. He could not sing in tune. He wasn't coming to my concerts because he loved music. He came because he loved me and wanted to show his support of what I was doing. I got that part of it. I appreciated him coming. And secretly I wanted to believe him when he told me I was the best. But I knew it wasn't true.
After high school, I quit playing the viola, because in my mind, I wasn't good enough to keep going with it. Four years of college and four more years of working in Boston brought a little maturity to my head and my heart. At that point, I moved back to my hometown in Texas and had almost daily contact with my parents.
My dad and I often had deep conversations about life and talked about all sorts of things. One day, I brought up those unpleasant memories of him telling me I was the best when I knew I wasn't. It had given me a negative view of myself. I knew he was trying to be supportive, but I needed his objectivity. To me, it seemed he loved me because he thought I was the best one in the orchestra. I knew that wasn't true and it messed up my ability to accept his love.
I told him point blank that I felt his comments had not been honest and that it hurt every time he told me I was the best.
My dad was silent for a bit and then apologized. Then he simply said, "But James, to me you were the best."
I finally got it. Talk about unconditional love! I didn't know how to accept it. I didn't understand it. I wanted conditional love. I wanted him to love me more if I did a good job.
I could have been last chair, dropped my viola during a concert, made a fool of myself, and my dad would still have said I was the best one there. I finally realized he didn't mean I was the best musician. I was the best one there to him simply because I was his son and he loved me.
As my kids were growing up, theoretically I loved them unconditionally. But in practice, I'm afraid there were times that they thought I didn't love them because of something they did that I didn't like. It is very humbling to remember my dad's example and strive to do better in the future.
God's love is unconditional
God loves us no matter what. We may do things that are not pleasing to Him, but the love is still there, as strong as ever.
Do you have a hard time accepting God's love? Do you think you have to earn this love? Then take a deep breath and let out a sigh of relief. You do not have to earn God's love. Here are a couple of previous posts on this topic you might enjoy: God Still Loves You, and You Deserve God's Grace and Love.
But you would be surprised at how many churches teach that God only loves you if you are good. I have heard mothers threaten their kids by telling them if they do something bad, God will not love them. What total nonsense.
And in fact, it goes against what Jesus says in the Bible. For example, in the Sermon on the Mount he preaches about the importance of loving everyone, even your enemies. He explains that we need to be like God, who "makes His sun rise on the evil and on the good, and sends rain on the just and on the unjust." Matthew 5:45  NKJV
You are capable of unconditional love
You can give it and you can receive it.
Take an honest look at your ability to give and receive love. Do you put conditions on it? Do you have trouble accepting someone's love for you? Do you have trouble accepting God's love for you?
Do you love someone only if they do exactly what you want them to do? Do you love God only when things go the way you want?
When we do not express or accept love unconditionally, it is actually a power play. We are trying to exert our power over God or someone else. We want to be in control. When you love and accept love unconditionally, you have to let go of the power your ego wants to have. It's about letting God be in charge. It's called humility.
An invitation
As an exercise in learning to love and receive love unconditionally, I invite you to think of one person in your life who, at present, is not someone you have much love for. I'm not asking you to love the stuff they do that annoys you. I am encouraging you to just love that person with all the love of God. (Hint: You cannot love them just with the human love in your heart. You have to use God's love.)
Don't say anything to them at first. Just love them. Bathe them in pure love with no agenda on your part. If it helps, imagine them as an innocent little baby in your arms that evokes love. Have compassion on them. You never know completely what someone's backstory is that caused them to be the way they are. Just love, love, love them.
Okay, that is the first step, which is not so hard when you're sitting in your prayer chair. But now it's time to express love to this person. Yes, you can do this. You can be loving to them, expecting nothing in return.
If nothing else, it will change you from the inside out. It should change the way you see and think about this person and the way you interact with them. And that may help the other person to change. They need to love and feel loved just as you do.
I hope you will accept this little invitation to love someone unconditionally. Let me know how it goes. I will join you in this. I will pick out someone in my life that I do not love the way I should and love them.
As always, I welcome you comments of questions in the comment section below. I send you my unconditional love.
Here's a picture of Skunky and Turtley, two little friends in our house. They are very different from each other but they are good friends. If they can love unconditionally, so can you.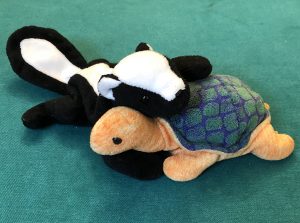 Blessings,
James
P.S. News Flash: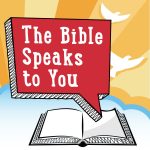 In the next month or so, I'll be starting a podcast called, of course, "The Bible Speaks to You Podcast."
Update:  The podcast is live. Check out the Podcast page. To sign up for email notifications so you won't miss a single podcast episode or blog post, click here.
Thanks so much for your support.
James