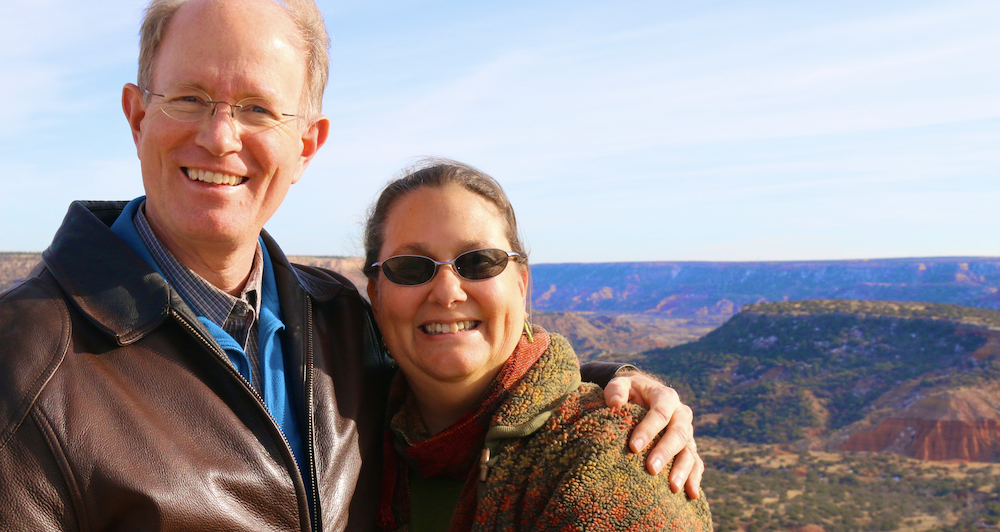 Here's the story of how I met my wife!
Last week was the 32nd anniversary of when my wife and I met. It's quite a story. And there was a special prayer that prepared me for that wonderful day when I first looked into my wife's eyes and knew she was the one I would marry.
Prayer for companionship
There is so much in this story that shows how God brought us together. And I share the special prayer that helped me find my wife.
Marriages in the Bible
In this episode I also talk about a few of the marriages in the Bible where we get to see how a couple meets:
Isaac and Rebecka
Jacob and Rachel
Ruth and Boaz
David and Abigail
David and Bathsheba
Esther and Ahazuerus
In each of these stories, I look at the qualities the people expressed. What is it that attracts them to the person they marry? Sometimes they are good qualities. Sometimes, not so good, as with David with Bathsheba.
Are you looking for a companion?
What are you really looking for? What qualities do you want in a companion? Do you expect to find fulfillment if someone else? That never really works. The sooner you find your own completeness, the sooner you will be attracted to someone who is right for you and the sooner they will be attracted to you.
If you are already married, there are still some great ideas in this episode about how to pray to maintain and renew your relationship with your spouse.
Hope you enjoy this episode.
My wife's version of our story…

If you would like to read this story, you can find my wife's version on her blog: PollyCastor.com. If you would like to receive her daily blog of art, photography, spirituality, ideas, books, movies, food, poetry, and hope. She amplifies good where ever she finds it. Please subscribe. She would love to have you as a reader.
If you know someone who is looking for companionship, please share this with them.
Have a great week.
To celebrate the one year anniversary of the podcast, please let me know of something that was helpful from the show and how it has made a difference in your life. You can reach me at james@thebiblespeakstoyou.com or thebiblespeakstoyou.com/contact.
Blessings,
James
P. S. If you would like to contribute toward the production expenses of The Bible Speaks to You Podcast, please click here:
Support the show
Bible References in this episode:
Genesis 24:12-19  ESV
12  And he said, "O LORD, God of my master Abraham, please grant me success today and show steadfast love to my master Abraham.
13  Behold, I am standing by the spring of water, and the daughters of the men of the city are coming out to draw water.
14  Let the young woman to whom I shall say, 'Please let down your jar that I may drink,' and who shall say, 'Drink, and I will water your camels'—let her be the one whom you have appointed for your servant Isaac. By this I shall know that you have shown steadfast love to my master."
15  Before he had finished speaking, behold, Rebekah, who was born to Bethuel the son of Milcah, the wife of Nahor, Abraham's brother, came out with her water jar on her shoulder.
16  The young woman was very attractive in appearance, a maiden whom no man had known. She went down to the spring and filled her jar and came up.
17  Then the servant ran to meet her and said, "Please give me a little water to drink from your jar."
18  She said, "Drink, my lord." And she quickly let down her jar upon her hand and gave him a drink.
19  When she had finished giving him a drink, she said, "I will draw water for your camels also, until they have finished drinking."
Genesis 29:10, 11  ESV
10  Now as soon as Jacob saw Rachel the daughter of Laban his mother's brother, and the sheep of Laban his mother's brother, Jacob came near and rolled the stone from the well's mouth and watered the flock of Laban his mother's brother.
11  Then Jacob kissed Rachel and wept aloud.
Book of Ruth
1 Samuel 25:2, 3, 18, 23, 27, 30, 31  ESV
2  And there was a man in Maon whose business was in Carmel. The man was very rich; he had three thousand sheep and a thousand goats. He was shearing his sheep in Carmel.
3  Now the name of the man was Nabal, and the name of his wife Abigail. The woman was discerning and beautiful, but the man was harsh and badly behaved; he was a Calebite.
18  Then Abigail made haste and took two hundred loaves and two skins of wine and five sheep already prepared and five seahs [footnote: A seah was about 7 quarts] of parched grain and a hundred clusters of raisins and two hundred cakes of figs, and laid them on donkeys.
23  When Abigail saw David, she hurried and got down from the donkey and fell before David on her face and bowed to the ground.
27  And now let this present that your servant has brought to my lord be given to the young men who follow my lord.
30  And when the LORD has done to my lord according to all the good that he has spoken concerning you and has appointed you prince over Israel,
31  my lord shall have no cause of grief or pangs of conscience for having shed blood without cause or for my lord working salvation himself. And when the LORD has dealt well with my lord, then remember your servant.
2 Samuel 11:2-4  ESV
2  It happened, late one afternoon, when David arose from his couch and was walking on the roof of the king's house, that he saw from the roof a woman bathing; and the woman was very beautiful.
3  And David sent and inquired about the woman. And one said, "Is not this Bathsheba, the daughter of Eliam, the wife of Uriah the Hittite?"
4  So David sent messengers and took her, and she came to him, and he lay with her.
Book of Esther