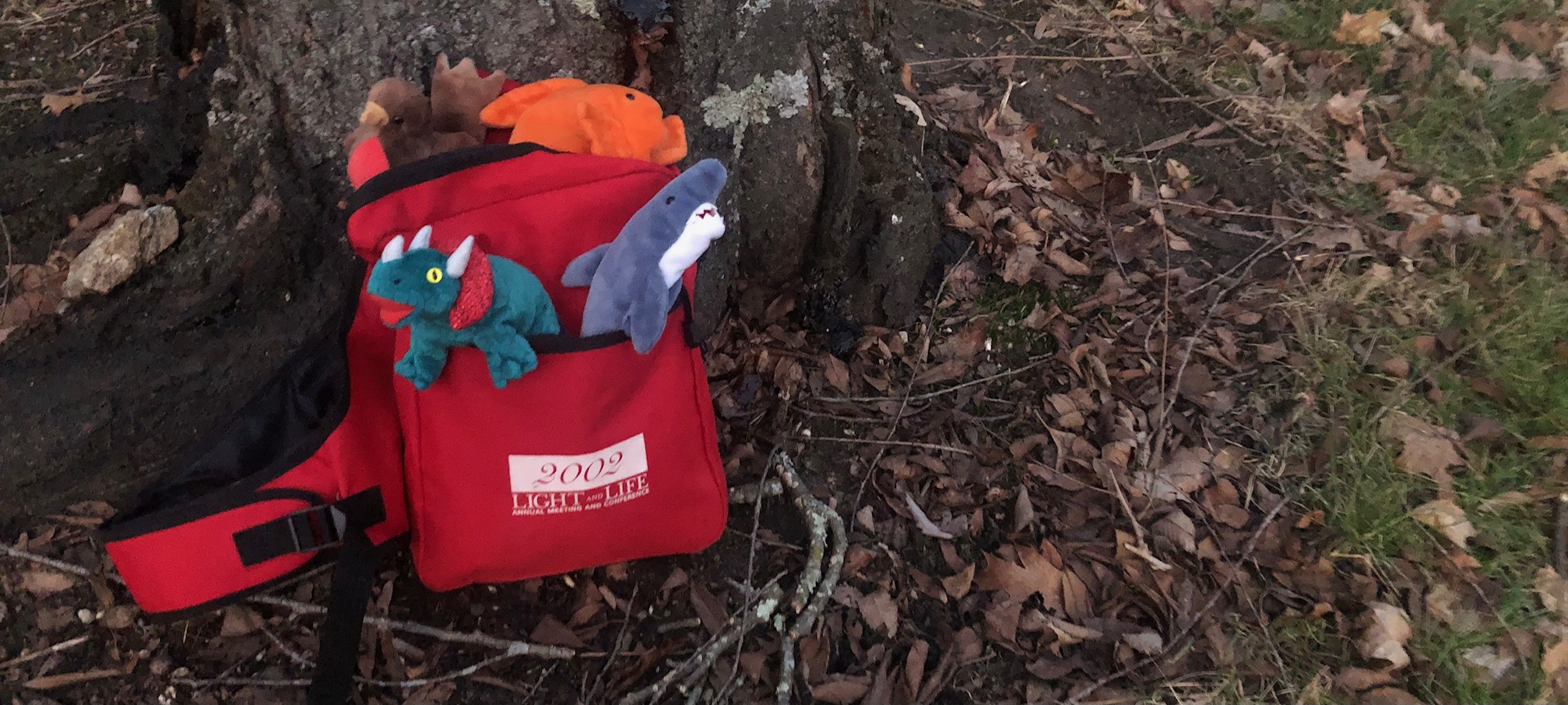 Is there anything you need to surrender to God?
This week I'm doing something I haven't done in quite a while. I've come up with a parable about the blessings of letting go of things we hold onto. Invariably, we all are holding onto something we need to surrender to God.
As you hear this Parable of the Overloaded Backpack, you can probably figure out where I'm going with it. Listen with an open heart and think of the things in your life, and not just the things, but the thoughts, the habits, the actions and attitudes that it's time to let go of in order to follow Christ more closely.
Now this parable doesn't sound very Bible-ish, but there are some definite Bible themes in it, which I'll talk about at the end.
Here we go.
The Parable of the Overloaded Backpack
Charlie and his wife Charlene were planning to go on a ten day camping and hiking trip. They had been camping too many times to count, but this was the first time they were taking their six-year old twins, Charlotte and Carlton, with them.
For weeks they had been getting ready reserving campsites, deciding on what trails to hike, and most importantly, what to take with them.
Charlotte and Carlton were excited and every day they added things to the growing pile of what they "had to take" on the trip.
Dad had told them sleeping in a tent was sort of like having a home away from home. As a surprise, just a couple of days before they left, he even pitched the tent in their back yard to practice sleeping "out in the wild" in a sleeping bag.
After they were all tucked in that night, Charlotte suddenly realized she needed Mr. Biggs, her favorite stuffed animal, a turquoise rabbit with purple ears. Charlie went back into the house to get Mr. Biggs.
Practice camping with stuffed animals
Charlotte breathed a sigh of relief but a minute later, she calmly but firmly announced, "Dad, Mr. Biggs is lonely."
In the end, Dad brought Charlotte's twelve "friends" to sleep with her. Charlie tried not to roll his eyes and said knowingly, "Charlotte, I know what you're thinking. But don't get any ideas. We don't have room for you to bring all your stuffed animals on the trip."
There's something about a six year-old's pleading, hopeful eyes that can melt the firmest dad-heart. When the car was packed a couple of days later, Charlotte had all twelve of her friends ensconced with her in her spot in the car.
She had promised to keep them all in her sleeping bag so they wouldn't get in anybody's way.
There is no match for a six-year old's determination and her parents agreed her "friends" could join the expedition if the behaved themselves.
They arrived the first night at the camp site in time to get the tent set up and have dinner as the sun was setting.
The next day they slept late, hung out around the tent for a while then began to explore nearby. Tomorrow was their first hike.
New red backpacks
Charlene had bought each of her kids a bright red backpack so they could carry their own lunch along with whatever else they thought they'd want on their hikes.
Carlton had a compass, a sketchbook, and colored pencils. He wanted to know what direction they were going and he wanted to draw a picture of what he saw along the way.
Charlotte brought a pad of paper and her favorite red marker. She was going to keep a record of all the different animals she saw. Mom would write down every new kind of animal they saw and Charlotte would keep a tally of how many she saw.
But just as they were about to head out, Charlotte raced back into the tent. When she returned, her little red backpack was literally overflowing with stuffed animals. Some were safe inside with only their heads peeking out. But some were dangling precariously from the outside pockets with only one arm or leg tucked in securely.
Mom pretended to be surprised. "Charlotte, what are you doing?"
Charlotte replied very matter-of-factly, "Mom, Mr. Biggs wanted to come. Then they all wanted to. I couldn't say 'No.'"
Stuffed animals on the hike
Charlie winked at his wife. They had anticipated this moment and had agreed to let her bring Mr. Biggs on their hikes, but they hadn't expected her to want all her friends. But it was basically impossible to say "No" to those beaming eyes.
Dad explained she could bring all of them but that she had to be completely responsible for carrying them the whole time.
Struggling just a little to keep her balance with the overloaded backpack, Charlotte promised she wouldn't ask for help.
So off they went.
It wasn't a particularly difficult hike. And they would only be gone for about an hour and a half. There were a few rises and dips in the trail, some rocks to climb over, and a few stepping stones across little streams to manage.
After about half an hour Charlotte started to drag her feet. She was not happy she couldn't keep up with Carlton, who was still full of energy and bounding down the trail ahead of everyone.
Time for a snack
Mom realized what was going on and said it was probably time for them all to take a little rest and have a snack. They sat down on nearby rocks and ate some grapes and peanut butter crackers.
After they had been back on the trail for about five minutes, Charlotte suddenly cried out, "Monkey Man is missing." Monkey Man, a red and purple fleece monkey, had been dangling out of one the pockets of her backpack. And he was no longer there.
Charlotte was about to cry when Dad simply said, "Let's go find him."
Carlton was a little annoyed that he had to wait, but Mom suggested this would be a good time to draw something in his sketchbook. He found a very spiny cactus and got out his colored pencils.
In a few minutes Dad and Charlotte were back. Monkey Man had been waiting for them next to the rock where Charlotte had taken off her backpack where they ate their snacks. She tucked him into his spot as tightly as she could and scolded him just a little for jumping out of the backpack.
Carlton showed everyone his sketch of the cactus, which was very detailed. After he put his art materials back in his backpack, the four hikers once again set out.
Stepping stones
In a few minutes, they came to a stream with five large stepping stones. The water wasn't very deep but it was moving pretty fast. Mom went first, then Carlton. Charlotte followed with Dad coming last.
Just as Charlotte got the fourth stepping stone, she tripped. Dad was right behind her and caught her so she didn't fall. But he grabbed her so quickly that it knocked Slithery, a purple and gold, hand-crocheted python, out of the backpack into the current.
Charlotte screamed as Dad put her on the bank and ran to get a nearby dead branch to fish Slithery out of the stream. When he finally brought a very water-logged snake to Charlotte, he teased her that Slithery didn't make a very good water snake and that he should learn to swim.
Charlotte's eyes were full of gratitude. The wordless hug she gave her dad said more than words ever could.
Once Slithery had been wrung as dry as possible and re-secured in that overloaded backpack, they were once more on their way.
A mix of mud and stuffed animals
By the time they returned to camp, several more of Charlotte's friends had fallen out at one point or another. Once she tripped on a tree root and fell in the mud. When she landed, her backpack popped open and almost all of her friends tumbled out.
After mom pulled her out and all the friends were cleaned off as well as possible, Charlotte tried to pretend they just wanted to take a mud bath. But it didn't work. Tears were rolling off her cheeks.
She hiked the rest of the way back to camp, silent, dragging her feet, and slumping under the extra weight in her backpack.
All through lunch, she didn't say a word. She didn't even want desert. Suddenly she blurted out, "I'm not taking any of my friends on the hike tomorrow."
Charlene and Charlie both caught the relief in each other's eyes. Charlene was about to ask why when Charlotte continued, "Well, maybe I'll take Mr. Biggs."
Day Two
The next day, Charlotte was ready for the hike and only had Mr. Biggs in her backpack. But just as they were about to leave, she ran back into the tent an emerged once more with all her friends crammed in the backpack.
Dad, was just about to say, "Remember what happened yesterday?" when Charlotte blurted out, "I just can't leave them here. I have a plan and I will be much more careful today."
Charlie and Charlene had talked about this after the kids were asleep the night before and decided that Charlotte needed to learn for herself that she couldn't take all her friends. They had suspected she might try to bring them all again. But they knew if they forced her to leave them in the tent, she wouldn't learn the lesson she needed to.
This hike wasn't much different from the day before. Various stuffed animals got lost and then retrieved along the way. Some fell in the water. Mr. Biggs fell in a thorn bush and it took about 20 minutes to get all the thorns out of him.
Pretty much the same thing happened on Day 3. Charlotte was determined to bring all her friends, but once again, it was not a successful day for stuffed animals staying in an overloaded backpack.
Things weren't working for Charlotte
That night after dinner and a few s'mores around the campfire, Dad said with his best Dad voice, "Charlotte…"
She knew what was coming. She had been dreading it all day. She knew what Dad was going to say, but she was surprised when he congratulated her on her hard work and determination to do what she had attempted the last three days, to bring all her stuffed animals on the hikes.
It sort of caught her off guard and took her off the defensive. Everyone was quiet for a few minutes. Then Dad said, "Charlotte, you've tried so hard, but it's not really working to take all your friends on the hike. I'm leaving this completely up to you, but I want you to think pretty seriously about who you would be willing to leave behind on tomorrow's hike. You're slowing us all down and we haven't been enjoying the beautiful scenery very much because it's one thing after another with all your stuffed animals."
Charlotte was thoughtful for a few minutes. She knew Dad was right. She wasn't having a good time at all. She had tried so hard to take all her friends on their hikes, but it just wasn't working.
Dad repeated quietly, "Charlotte, who will you be willing to leave behind in the tent tomorrow? You don't have to decide right now. You can let us know in the morning."
Charlotte makes a big decision and learns a lesson
Charlotte was up before the sun the next morning. She got dressed and straightened out her sleeping bag, then lined up all her friends on it. She told them they didn't get to come with her today, except of course for Mr. Biggs. He would give them a full report when they got home.
The hike that day was the most fun anyone had had all week.
Carlton and Charlotte giggled as they scampered over rocks and jumped in puddles left from the rain during the night. There were no worries that any stuffed animals would go flying into the water or the mud, or get covered with thorns. Everyone felt a big weight was off their shoulders but no one felt as free as Charlotte.
The rest of the ten days was a huge success.
As they were driving home, everyone shared their favorite things from the trip. Charlotte surprised everyone when she said, "I had the best time ever and my favorite thing was I learned sometimes the things you love hold you back when you hold onto them too much. Sometimes you have to let go of the things you love so you can go where you want to."
And that is the Parable of the Overloaded Backpack
What will you surrender to God so you can follow Christ?
As I said this is doesn't really sound like something that you'd expect to hear on a podcast or read on a website about the Bible. But the lesson that Charlotte learned on her camping trip is an idea that comes up in the Bible over and over.
I'll ask the question in more Biblical language, which I asked at the beginning of this episode: What are you willing to surrender in order to follow Christ more closely? Does anything come to mind after listening to this parable?
Jesus expected a lot from his disciples, all his followers. He said,
Whoever wants to be my disciple must deny themselves and take up their cross daily and follow me.     Luke 9:23  NIV
I have mentioned this verse many times on The Bible Speaks to You Podcast  and this website in various contexts. So, let's look at it from the perspective of what we need to surrender in order to follow Christ.
What does it mean to deny yourself?

Jesus says we have to deny ourselves. That doesn't mean to deny we exist. It means, among other things, that we have to set aside the things that we hold onto so dearly that keep us from following Christ.
Sometimes we think it's material things we have to let go of to follow Jesus, and that may be true at times.
But more often I think it turns out the things we need to let go of, the things about ourselves we need to deny, are thoughts and attitudes we have about ourselves that are negative and prevent us from following Christ.
For example, If you think of yourself as unworthy because of past mistakes, or not smart enough or spiritually minded enough to follow and obey Jesus completely, that is a negative mindset which needs to be surrendered.
Pride and self-depreciation need to be surrendered
It's human nature to think we're not good enough at something. And sometimes human nature goes the other direction. We think we are the smartest, best qualified person for a particular job at church or at work. We're so full of ourselves, we can't see that pride is a stumbling block that keeps us from following Jesus.
Pride too must be surrendered to follow Christ more closely. Whether you think you're not good enough or you think you're the best and only one for a certain task, you will at some point realize it's not your ability or lack of ability that allows you to be a follower of Jesus. It's your willingness to let go of all your preconceptions, opinions, pride, self-will, self-depreciation, just to name a few, that prepare your heart to follow Jesus.
A friend of mine Pam Fields, host of The Mom Next Door, Stories of Faith Podcast, (see her info below) and who was a guest on this podcast last year to talk about Mothers in the Bible, shared a wonderful experience with me recently and she gave me permission to share it with you.
Letting go of confusion
She was at a five day prayer retreat designed to deal with the harmful seeds planted in the garden of your heart that were choking out God's plan for you. In one of the sessions, she was asked to close her eyes and ask God to show her what actually needed to be healed from her past. She was to ask what she needed to surrender and what God would give her to replace what she had given up.
She realized she had always felt she was confused and couldn't understand Scripture. She felt like she could understand things on a kid's level but couldn't go deep, that she wasn't a good learner.
When she closed her eyes and was talking to God, she said, "What do I need to give You? What do I need to surrender?" In her mind's eye she saw a box that signified confusion.
The figure of Jesus appeared and asked her to give him the box. But she put it behind her back. He kept holding his arms out and said he wanted to take all that confusion away from her. But she refused to give it to him. He finally reached around her and took the box, that signified confusion, away from her.
Then she asked God, "What do you want to give me in exchange for this?" The answer was that God wanted to give her knowledge, understanding, and clarity of mind and peace in that.
Receiving understanding from the Holy Spirit
She remembered that Jesus said he would send the Holy Spirit to teach us all things and remind us of everything he said.
She surrendered her belief that she was confused and unable to understand the deeper things of God and God replaced it with the understanding that the Holy Spirit would always be with her to teach her everything she needed to know.
This is just one example of the kind of thing I think Jesus is talking about when he says we need to deny ourselves and leave all to follow him.
Sometimes it may be surrendering a decision we made in the past, a grudge we hold against someone. It could be almost anything that's holding us back from being more Christlike and following Jesus more closely.
What should we surrender to God?
The Lord's prayer gives a pretty thorough spiritual workout of what needs to be surrendered. When we pray for God's kingdom to come, God's will to be done, it implies that we are surrendering our kingdom and our will.
Are you willing to surrender your need to be in control and accept God's direction and control in your life?
Are you willing to give up your personal opinions and agenda to listen for God's perspective and plans for your life?
What negative self-talk about yourself or others are you willing to surrender to hear what God has to say about you and them?
What hurts and fears, or prideful moments are you clinging to from the past that need to be surrendered.
I could go on, but I think you get the idea.
A rich man couldn't surrender
When a rich young ruler came to Jesus asking about what was required to inherit eternal life, Jesus asked him to leave everything to follow him. The young man just couldn't do it. He was very wealthy, and the thought of giving up all his worldly goods to follow Jesus was too much form him at that moment. We don't know what choices he made in the future. But at that point he wasn't willing to surrender his wealth to follow Jesus. (See Matthew 19:16-22 below)
But Jesus didn't make that same request to others who were wealthy. He did however want people to give up their trust in anything besides God, especially money.
At that point, Peter piped up,
Peter answered him, "We have left everything to follow you! What then will there be for us?"
Jesus said to them, "Truly I tell you, at the renewal of all things, when the Son of Man sits on his glorious throne, you who have followed me will also sit on twelve thrones, judging the twelve tribes of Israel. And everyone who has left houses or brothers or sisters or father or mother or wife or children or fields for my sake will receive a hundred times as much and will inherit eternal life.     Matthew 19:27  NIV
This sounds a little like my friend Pam's question to God about what He would replace her confusion with.
What will you surrender to God?
When you surrender whatever gets in the way of or hinders you from following Christ to the fullest, God gives you a more abundant life here and now, but you also become aware of what I'll call your citizenship in heaven and eternal life. And by that I don't mean something just way off in the future. Jesus said, "the kingdom of heaven is at hand." (Matthew 4:17  KJV) When you surrender what needs to be surrendered, you become more aware that the kingdom of heaven is at hand and you are blessed in ways that cannot be measured.
I'll leave you with this question: What will you take out of your overloaded backpack?
____________
Pam Fields:
Website: TendingFields.net
Podcast: The Mom Next Door: Stories of Faith
Other modern day parables on this website:
Episode 14 – Would You Let Jesus in Your House if You Hadn't Cleaned Up for Weeks?
Episode 32 – The Parable of the Unbaked Cake
_____________
James Early, the Jesus Mindset Coach, is a Bible teacher, speaker, and podcaster. He conducts Bible workshops online and in person. His focus is on getting back to the original Christianity of Jesus by embracing the mindset of Christ in daily life. Contact him here.
Subscribe to the podcast              Make a donation to support the show
_____________
Bible References
Luke 9:23  NIV
23  Whoever wants to be my disciple must deny themselves and take up their cross daily and follow me.
Matthew 19:16-22  NIV
16 Just then a man came up to Jesus and asked, "Teacher, what good thing must I do to get eternal life?"
17  "Why do you ask me about what is good?" Jesus replied. "There is only One who is good. If you want to enter life, keep the commandments."
18  "Which ones?" he inquired. Jesus replied, " 'You shall not murder, you shall not commit adultery, you shall not steal, you shall not give false testimony,
19  honor your father and mother,' and 'love your neighbor as yourself.'"
20  "All these I have kept," the young man said. "What do I still lack?"
21  Jesus answered, "If you want to be perfect, go, sell your possessions and give to the poor, and you will have treasure in heaven. Then come, follow me."
22  When the young man heard this, he went away sad, because he had great wealth.
Matthew 19:27  NIV
27  Peter answered him, "We have left everything to follow you! What then will there be for us?"
28  Jesus said to them, "Truly I tell you, at the renewal of all things, when the Son of Man sits on his glorious throne, you who have followed me will also sit on twelve thrones, judging the twelve tribes of Israel.
29  And everyone who has left houses or brothers or sisters or father or mother or wife or children or fields for my sake will receive a hundred times as much and will inherit eternal life.
Matthew 4:17  KJV
17  From that time Jesus began to preach, and to say, Repent: for the kingdom of heaven is at hand.