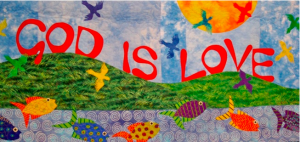 God still loves you.
It's as simple as that. Why do we make it so complicated?
In our minds, we toss and turn between all the things we have done wrong and decide that God could not possibly love us anymore.
Or maybe we just feel unworthy. It's not just about the mistakes we've made. It's the things we haven't done that we should have.
Over many years, I was well acquainted with the sins of both commission and omission. The list is long of things I've done wrong during my life. As is the list of things that I should have done. In all fairness, I have done much right in both categories, but for a long time it didn't seem to outweigh the bad.
It's been a slow ripening process
Gradually I have come to feel God's love for me. One Bible verse at a time. One moment of inspiration at time. One good deed at a time. One conversation with God at a time.
This verse from Isaiah always gave me hope:
Come now, and let us reason together, saith the Lord: though your sins be as scarlet, they shall be as white as snow; though they be red like crimson, they shall be as wool."    Isaiah 1:18
I used to read that and always thought it applied to other people. It finally dawned on me one day it was meant for me as well. I cried like a baby. Was is possible that God could forgive me for–everything? Yes. Absolutely.
I would ask God these questions. And God would answer
Why do You forgive me?
Because I love you."
But I don't deserve your forgiveness. I have tried to stop sinning. I have tried to do what I know You want me to do, but I just haven't done it all yet.
Of course you deserve to be forgiven."
Why? I've tried to be better and haven't done the best job.
Because I love you.

I will help you do better. I already have, but you haven't noticed. You are walking in the right direction. You are on the right path. You love My Son, Christ Jesus. Keep that up. Keep following him. I will keep you on the path. Watch for the signposts I put along the way."
Why do You love me so much?
Because I made you."
Why did You make me?
I made you to radiate forth My glory."
Ha! I haven't done that too well.
Maybe you have done more than you think. Remember when you were so kind to Edna Cunningham? And what about Mr. Sun? He was quite a scary sight but you treated him with compassion. And don't forget the man you talked to on Columbus Avenue that morning you were in a hurry. I put him in your path because I knew you could help him. And you did. Don't tell Me you haven't reflected My glory out into the world."
You're right. I have had some precious moments when I felt right next to You. But those times seem so few and far between.
I count time differently than you do. What you call moments, I see as glimpses of eternity. They completely outweigh the darkness you focus on."
So why do You love me?
You are precious in My sight. I have made you in My very own image and likeness."
But how could you possibly love me with all the mistakes I've made. I don't really feel worthy of Your love.
Remember when you fell in that mud hole in third grade? You were completely covered with that thick brown ooze. Did your mom and dad quit loving you because you got so dirty? Did they even get upset with you?"
No, in fact, my dad got the hose and squirted me off. He was very kind to me.
So there you have it. I still love you because I know that all those things you've done wrong are just like mud. Maybe you jumped into some of that mud on purpose. Maybe the world has thrown some of its mud on you. But the "mud," your sin, was never part of you. I am washing away all the mistakes you have made, big and small, just as your dad washed off all that mud so many years ago. It took a while for him to get it all off, didn't it?"
I had forgotten. Yeah, probably 15 or 20 minutes. And that water was cold!
So be patient with My cleansing process. It may seem long and drawn out to you, but it's really just a blink of the eye. Trust Me."
Why do I still find it so hard to believe that you love me?
Because you don't love yourself. You don't see your own value. Open your eyes and look at how glorious I made you. Actually, you have to close your material eyes and open your spiritual eyes to see what I'm talking about.

Think of the times in your life when you have expressed love to someone. Do you remember?"
Yes.
All those experiences add up to immense spiritual value. Over many years you have added loving thoughts and deeds one upon the other and amassed great spiritual value. This is how I see you. You are of great value to Me because of the love in your heart and your life.

I have made you to love and to be loved. You have inherited this from Me. I am Love itself. I love and am loved. I don't love you because of what you have done or not done. I love you because you are My child. I just love you. It's as simple as that.

I still love you and always will."
Thank You, God. I love You too.
∞∞∞∞∞∞∞∞∞∞∞
This is just a little taste of the kinds of conversations I have with God.
I encourage you to talk to do the same. Talk to God. Ask Him questions. Listen for His answers. Write it all down in a journal. It will be a strength in future days.
God still loves you. He will not give up on you. He will do whatever it takes for you to feel His love.
Blessings,
James