Did you ever imagine the epistle of James was written specifically for your church?
In this episode I talk with Robin T. Jennings about how the epistle of James was the first letter to the Christian Church and how it applies to us today as well as the next generation of church members. The epistle of James is all about the the importance of moral and spiritual growth and regeneration.
For a full transcript of this episode, click here: 205 Transcript
With all the talk today about being spiritual but not religious, Robin points out that we need to have the mind of Christ, and being in church can be supportive of that. He said we need to make a bridge with the next generation of believers and the way to do that is to show the difference Jesus has made in your life.
The importance of church
We talked about why the church is, or can be, an important part of your life. It's a place for worship and glorifying God collectively in a community, a place to let your light shine, a place to find support and to give support to others.
Robin felt the call to ministry during his college years when he worked at an Episcopal boy's home for the emotionally disturbed in Chicago. Because of the deep questions on his mind, his supervisor asked him if he had ever thought about going to seminary. That's what got him started on the path. The questions were related to social issues and what he was going to do about it.
He often referred to the importance of following the leadings of the Holy Spirit and living with God on a daily basis. And that we all need to grow where God plants us, but be willing when God plants you someplace else.
We talked about why younger people are not coming back to church after COVID, people who believe in Jesus, but they don't feel they need church.
Church is about glorifying God
To him though, Church is a place to worship in order to glorify God. Worship comes from the word worth. It's about finding something of worth, seeing God's worth, our worth, and others' worth.
He quotes Ignatius: "What have you done to glorify God today?
We talked about the power of collective prayer in the church context.
It's about seeing our relationship with God.
The epistle of James meets the needs of today's church
What are the needs of the church right now? To let our light shine better.
We need to see the church as a community of faith. That got lost during the pandemic. So many people feel isolated and lonely. The church can shine its light in the darkness to create a community of faith and support for the community.
James was the first mentor to the church. That's what the church needs now, is to provide mentors to those who need support, to listen to what's going on in someone's life, and offer some wisdom and guidance.
A mentor also needs to provide a model for living a moral and spiritual life. Also, a mentor encourages someone to grow spiritually, and not just a quick fix. You begin with where they are and what their immediate concerns are. It's not a quick fix.
Asbury Revival
We talked about the revival at Asbury University in central Kentucky that took place earlier this year.
Young people were coming to see if God would show up. They wanted answers. They were looking for transformation and changes in their lives. And they were looking for forgiveness for their mistakes and sins.
There were 50,000 or so people who came to this over several weeks. But Robin asked pointedly, "Are our churches ready to welcome them, meet them where they are, and listen, even if they don't look exactly like the folks in your church?"
Will the church say, "We're so glad you're here?" or will it say, "Oh, you're different from us." And not be very welcoming.
James addresses this very question.
The epistle of James focuses on doing, not just talking, the word
Robin talks about the relationship between faith and works as the root and the fruit. Faith is the root and a healthy root bears healthy fruit.
James is one of the earliest Christian writings, probably written in the 40s of the Common Era. It was very fresh. James is one of the closest writers to the life of Jesus. It really echoes the Sermon on the Mount.
Who is James?
He is the half-brother of Jesus.
James was a leader in the early church in Jerusalem in the book of Acts, which are a result of his faith in Christ.
Robin sees the epistle of James as a letter to the next generation of believers in church. James is saying to the next generation: Grow up. Be mature. It's good practical advice and counsel based on the Sermon on the Mount. It brings up the basic moral questions and issues that keep your church alive or kill it.
The answer to all the problems a church is facing is: Be more Christlike.
If the book of James has answers for the next generation, how would it help a church that has an elderly membership. James would say to pray about it. Have you prayed about it?
Motives for prayer
As far as prayer goes, collective church prayer is powerful and effective. It's about giving the Holy Spirit the space to work by letting go of your own personal opinions.
When you pray, check your motives.
Back to being doers of the word, it's important to find a way for a church collectively to find a way to be doers of the word.
Robin has a new book in the works on the importance of the soul: Expressions of the Soul. It's about loving God with all your heart, and mind, and soul. He says we need to start with the soul.
The material scientific world, especially now with Artificial Intelligence, robots, etc. leave the soul and spirituality out of our lives.
Robin emphasized more than once the need for and the importance of being a mentor. Have you ever thought about being a spiritual mentor to someone?
Robing and I invite you to read the epistle of James and see what it is saying to your church.
3 Final Questions:
1. If you could talk to any Bible character other than Jesus, who would it be and what would you ask them?
Well, could we start with James? As long as we're talking about, we could, yeah, sure. Really? I would like to ask him about that early church, by the way, some of his issues with Paul, which you'll read about in Acts and his leadership style, if he'd explain more about that, because that's what we need today, is strong leaders. And certainly he reflects one, they called him Camel Knees because of the calluses on his knees from praying. Don't you love that? I want to know more about his prayer life, and I want to know more about his leadership styles.
2. Is there any Bible character you especially identify with?
Oh, yeah, probably Peter. Why? Why? He wanted to walk on water. Yeah, he did. For a minute. One step. Yeah. And no, in all seriousness, you look at Peter's life up and down and up and down and up and down and right up to the point, as you know, of the crucifixion, and "I do not know you." And you want to say, you creep, Peter. How can you do that and deny him? And then there again to witness him in the resurrection and go from there is just so profound and so beautiful. Love to be like him.

3. This podcast is about getting back to the original Christianity of Jesus. How would you describe Jesus's original message of how he wanted us to live our lives?
Maybe go to the Good Samaritan. Just off the top of my head. I mean, I think that was such a wonderful parable in its own right. And it just stands alone almost in terms of compassion, being able to care for your neighbor, especially those who've been wounded and you know as well as I do, who hasn't been wounded, and to be able to reach out and offer them some kind of help, whatever it may be. A couple of denari. And then you just go on. You don't have to stay and take credit and sign autographs. You don't need just you're the Good Samaritan, and just keep moving.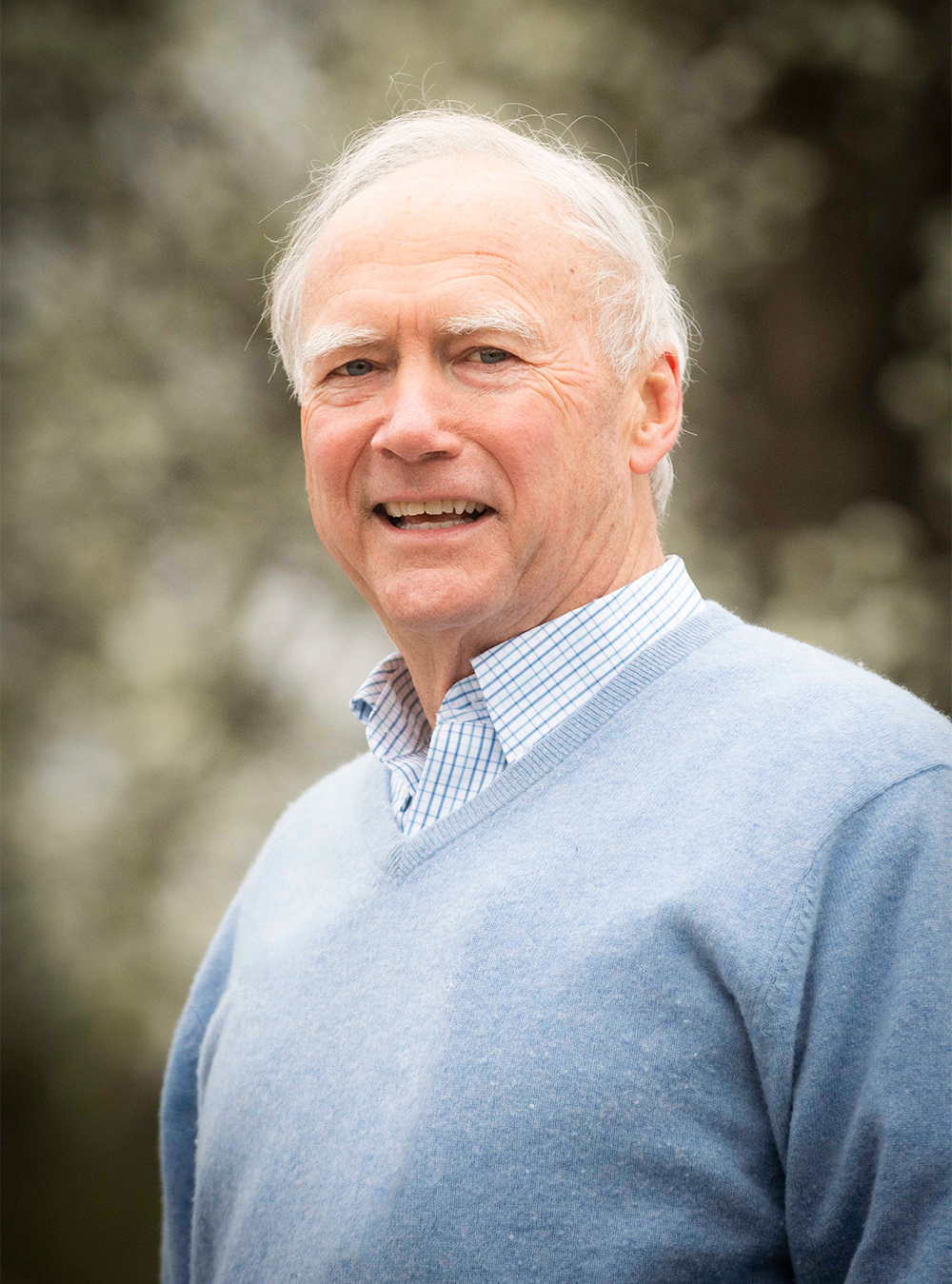 Robin T. Jennings is a graduate of Virginia Theological Seminary and has an advanced degree in spiritual direction from the Shalem Institute in Washington, DC. Robin enjoys bringing practices from the Christian spiritual tradition into the contemporary world of everyday life. Robin was named as one of the top religious leaders by Louisville Magazine in the community.
He and his wife, Mary have been married since 1972 and have been blessed with four sons (one of whom is deceased), three daughters-in-law and six wonderful grandchildren with whom they enjoy spending their family time. Robin and Mary reside in Louisville, Kentucky and love to travel and lead people on pilgrimages to religious sites around the world.
In a nutshell, Robin has spent his life helping people take the message of Christ and live it in their daily lives.
Robin's books*
May You Live in Christ: Spiritual Growth Through the Vision of St. Peter
The Door to Renewal: Spiritual Growth Through the Mind of St. Paul
A Letter to the Church and the Next Generation: Spiritual Growth through the Witness of James
Guided Reflection:
Guided Reflection for Spiritual Growth and Renewal
For a full transcript of this episode, click here: 205 Transcript
_____________
James Early, the Jesus Mindset Coach, is a Bible teacher, speaker, and podcaster. He conducts Bible workshops online and in person. His focus is on getting back to the original Christianity of Jesus by embracing the mindset of Christ in daily life. Contact him here.
Subscribe to the podcast              Make a donation to support the show
_____________
Bible References
John 4:23  KJV
23 But the hour cometh, and now is, when the true worshippers shall worship the Father in spirit and in truth: for the Father seeketh such to worship him.
James 2:2-4  NIV
2 Suppose a man comes into your meeting wearing a gold ring and fine clothes, and a poor man in filthy old clothes also comes in.
3  If you show special attention to the man wearing fine clothes and say, "Here's a good seat for you," but say to the poor man, "You stand there" or "Sit on the floor by my feet,"
4  have you not discriminated among yourselves and become judges with evil thoughts?
James1:22  KJV
22  But be ye doers of the word, and not hearers only, deceiving your own selves.
James 2:20  KJV
20  But wilt thou know, O vain man, that faith without works is dead?
Ephesians 2:8  KJV
8  For by grace are ye saved through faith; and that not of yourselves: it is the gift of God:
Matthew 7:21  NIV
21  Not everyone who says to me, 'Lord, Lord,' will enter the kingdom of heaven, but only the one who does the will of my Father who is in heaven.
James 1:5, 6  NIV
5  If any of you lacks wisdom, you should ask God, who gives generously to all without finding fault, and it will be given to you.
6  But when you ask, you must believe and not doubt, because the one who doubts is like a wave of the sea, blown and tossed by the wind.
James 4:2, 3  KJV
2  Ye lust, and have not: ye kill, and desire to have, and cannot obtain: ye fight and war, yet ye have not, because ye ask not.
3  Ye ask, and receive not, because ye ask amiss, that ye may consume it upon your lusts.
James 1:4  NIV
4  Let perseverance finish its work so that you may be mature and complete, not lacking anything.

Psalm 23:1  KJV
1  The LORD is my shepherd; I shall not want.

Mark 3:21  NIV
21  When his family heard about this, they went to take charge of him, for they said, "He is out of his mind."