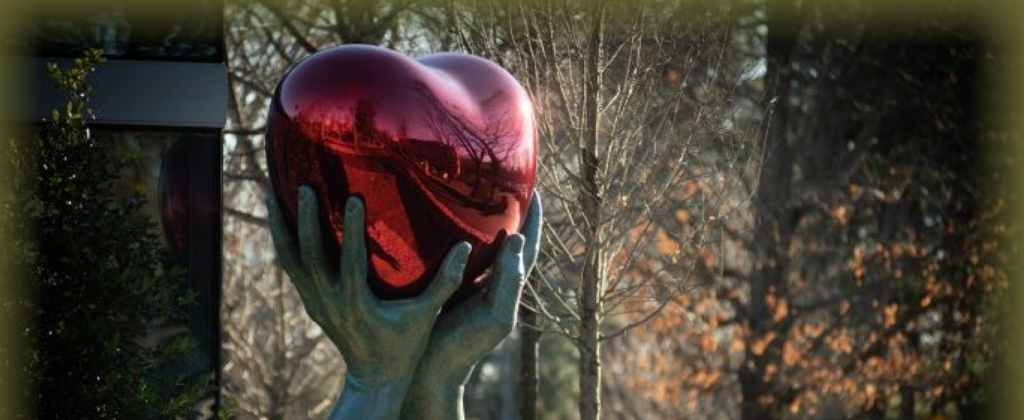 The solution is simple. We need to love each other.
Did you get caught up in the divisiveness in the United States before, during, and after the Presidential election last week? There were a lot of very strong emotions expressed from all quarters.
But strong emotions never really solve the problems we face as a country. They only make things worse.
In this week's episode, I talk about getting back to the simple solution of learning to love each other. But it has to be more than human love. That is never enough.
"A new commandment I give unto you"
Jesus tells us to love each other the way he loves us. Think about that for just a minute…or maybe years!
Can you love someone from the opposite political party the way Jesus loves you? It may seem impossible at first, but you can do it. God has already put that love in your heart. You just have to use it.
Love your enemies
This is hard to do, but Jesus knew you could do it or he wouldn't have told us to do it. No one can do it for you. So go ahead, give it a try. If you're a Republican, love all those Democrats. If you're a Democrat, love all those Republicans.
We are all brothers and sisters! It's okay to disagree, but we can do it with love.
If you say you love God, but hate your brother, John says you are a liar. Whoa! It's time to start loving.
If you listen to the end, I give you a little homework assignment that will make a big difference in your life. Enjoy!
Here are the two episodes I mentioned this week:
015 – How to Stop Fighting Your Brother and Love Him Instead
056 – How to Pray After the Election
Blessings to you and lots of love,
James
Please
Support the show
Scriptural References in this episode
James 3:8-12  ESV
8  no human being can tame the tongue. It is a restless evil, full of deadly poison.
9  With it we bless our Lord and Father, and with it we curse people who are made in the likeness of God.
10  From the same mouth come blessing and cursing. My brothers, these things ought not to be so.
11  Does a spring pour forth from the same opening both fresh and salt water?
12  Can a fig tree, my brothers, bear olives, or a grapevine produce figs? Neither can a salt pond yield fresh water.
Luke 6:27-33  ESV
27  But I say to you who hear, Love your enemies, do good to those who hate you,
28  bless those who curse you, pray for those who abuse you.
29  To one who strikes you on the cheek, offer the other also, and from one who takes away your cloak do not withhold your tunic either.
30  Give to everyone who begs from you, and from one who takes away your goods do not demand them back.
31  And as you wish that others would do to you, do so to them.
32  "If you love those who love you, what benefit is that to you? For even sinners love those who love them.
33  And if you do good to those who do good to you, what benefit is that to you? For even sinners do the same.
Romans 12:9-14  NKJV
9  Let love be without hypocrisy [unfeigned, undisguised, sincere]. Abhor what is evil. Cling to what is good.
10  Be kindly affectionate to one another with brotherly love, in honor giving preference to one another;
11  not lagging in diligence, fervent in spirit, serving the Lord;
12  rejoicing in hope, patient in tribulation, continuing steadfastly in prayer;
13  distributing to the needs of the saints, given to hospitality.
14  Bless those who persecute you; bless and do not curse.
Hebrew 13:1-3, 5, 6  ESV
1  Let brotherly love continue.
2  Do not neglect to show hospitality to strangers, for thereby some have entertained angels unawares.
3  Remember those who are in prison, as though in prison with them, and those who are mistreated, since you also are in the body.
5  Keep your life free from love of money, and be content with what you have, for he has said, "I will never leave you nor forsake you."
6  So we can confidently say,
"The Lord is my helper;
I will not fear;
what can man do to me?"  (Psalm 27:1  and Psalm 118:6)
1 Thessalonians 4:9, 10  ESV
9  Now concerning brotherly love you have no need for anyone to write to you, for you yourselves have been taught by God to love one another,
10  for that indeed is what you are doing to all the brothers throughout Macedonia. But we urge you, brothers, to do this more and more,
John 13:34, 35  ESV
34  A new commandment I give to you, that you love one another: just as I have loved you, you also are to love one another.
35  By this all people will know that you are my disciples, if you have love for one another."
John 15:9, 12  ESV
9  As the Father has loved me, so have I loved you. Abide in my love.
12  This is my commandment, that you love one another as I have loved you.
1 John 3:11, 14, 15, 18  ESV
11  For this is the message that you have heard from the beginning, that we should love one another.
14  We know that we have passed out of death into life, because we love the brothers. Whoever does not love abides in death.
15  Everyone who hates his brother is a murderer, and you know that no murderer has eternal life abiding in him.
18  Little children, let us not love in word or talk but in deed and in truth.
1 John 4:11, 12, 20  ESV
11  Beloved, if God so loved us, we also ought to love one another.
12  No one has ever seen God; if we love one another, God abides in us and his love is perfected in us.
20  If anyone says, "I love God," and hates his brother, he is a liar; for he who does not love his brother whom he has seen cannot love God whom he has not seen.
1Thessalonians 3:12, 13  ESV
12  and may the Lord make you increase and abound in love for one another and for all, as we do for you,
13  so that he may establish your hearts blameless in holiness before our God and Father, at the coming of our Lord Jesus with all his saints.